The bandit leader Michele Pezza (1771-1806) defended his native Naples against the invading French using his native knowledge of the territory and his inadvertent army duty. Pezza, who had received the moniker of 'Fra Diavolo' as a child because he was so naughty, grew up with a fierce temper. Ambushed one night by a rival and a supporter, he killed both and was sentenced to service in the army instead of prison time.
In the army, Pezza rose quickly through the ranks and in 1798 was part of the failed attempt of the Neapolitan Army to free the Papal States from the French. In retaliation, the French invaded the Kingdom of Naples, which at that time was a sovereign state under the Bourbons of Spain. The French captured Naples in 1799 and held the Kingdom of Naples from 1806 until 1815, when the Spanish took it back again.
Pezza organized a resistance movement, encouraged by Queen Maria Carolina, wife of King Ferdinand IV of Naples.
Pezza's 'army,' called La Armata cristiana della Santa Fede (the Christian Army of the Holy Faith) included everyone from children to nobles, clerics and peasants and was notably ferocious, if largely untrained. Evenually, Pezza was captured and executed in 1806, but the fighting and resistance in the Kingdom continued for another decade.
The story of the guerilla leader captured many artistic imaginations, including Alexandre Dumas (The Last Cavalier: Being the Adventures of Count Sainte-Hermine in the Age of Napoleon) and Washington Irving (Tales of a Traveler). In the 20th century, he was a subject of several Italian films. In opera, it was the French composer Daniel Auber who took up his story as a comic opera in 1830, creating one of the most popular works of the 19th century.
The storyline is the same as many comic operas: Zerline is in love with the soldier Lorenzo but her father wants her to marry the rich and elderly Francesco. Lorenzo, in pursuit of Fra Diavolo, captures some of his stolen loot and is rich enough to marry Zerline. Fra Diavolo steals back the goods and poor Lorenzo is no longer a prospective bridegroom. Fra Diavolo is still around and is seen in the wedding crowd by Zerline, who is about to be forced to marry Francesco. He's captured and Zerline is free to marry Lorenzo again.
As with many 19th century opera, Fra Diavolo no longer has a place on the modern opera stage, but its overture still sounds on the concert stage.
This 1951 recording by the Munich Philharmonic Orchestra, led by Fritz Lehman, shows us the appeal of Auber's comic work.
A measure of the opera's long life was its appearance in 1933, over a century after its premiere, as a comedy film starring Laurel and Hardy. Their Fra Diavolo (The Devil's Brother or Bogus Bandits) has little singing and mainly uses a Hollywood-ed up version of Auber's story.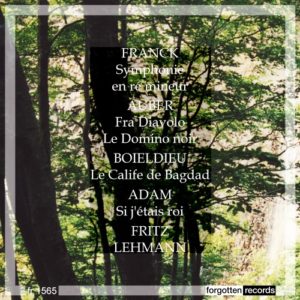 Performed by
Fritz Lehmann
Orchestre Philharmonique de Munich

Recorded in 1951 – 1954

Official Website