Florimond Hervé: Mam'zelle Nitouche, Act 1
Hervé's efforts grew out of the French opéra comique to satisfy a need for short, light works with spoken dialogue, songs and dances. Emphasizing music rich in melody and based on 19th-century operatic styles, this new genre featured comic plots, fast action, extravagant staging and infectious music. And while Hervé is credited with the invention of this genre, it was the genius of Jacques Offenbach who consolidated and developed these initial ideas. Over a period of 2 decades, Offenbach, in collaboration with the librettists Henri Meilhac and Ludovic Halévy, composed nearly 100 operettas. Born in Cologne and accepted at the Paris Conservatoire at age 14, Offenbach was drawn to compose comic pieces for the musical theater. And when nobody took him up on his offer, he leased the Théâtre des Bouffes-Parisiens in the Champs-Élysées and presented a series of highly popular small-scale works.
Short satirical one-act sketches expanded to become full-length evening entertainments. Offenbach's operetta became a popular form of entertainment that reflected contemporary taste in the nature of its plots and moral attitudes, as well as in topical references. And Offenbach had a way of satirizing everything in his path! He mercilessly roasted the Second French Empire and society in
La Vie Parisienne, La Belle Hélène, Orphée aux Enfers,
and
Barbe-Bleu
. Big business was his target in
Les Brigands
and everybody loved the saying "One must steal according to the position one occupies in society." And obviously, the French army was always good for providing a hearty laugh in
La Grande Duchesse de Gérolstein
. Offenbach had a knack for composing the most exhilaratingly light and tuneful melodies ever written, and his influence soon spread throughout Europe.
Jacques Offenbach: Les Brigands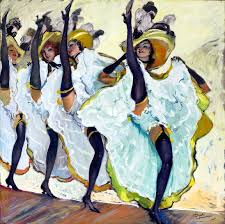 Offenbach's popularity was unrivaled, and Napoleon III personally granted him French citizenship and the Légion d'Honneur. However, with the arrival of the Franco-Prussian War in 1870 and the fall of the emperor, Parisian audiences were no longer in the mood for frivolity. Everybody remembered Offenbach's German birth, and the grotesque way he portrayed life—frequently frivolous and often bordering on the pornographic—were considered immoral. Although Offenbach remained highly popular in Vienna and London, it was Charles Lecocq who moved into the limelight in Paris. Born infirm and forced to use crutches from the age of five, he entered the Paris Conservatoire in 1849 and became friends with his fellow students Bizet and Saint-Saëns. In a fundamental shift of direction, Lecocq's operettas are devoid of any direct or critical bearing on real life. Although much of his music is characterized by a light touch, he would adopt a more lyrical and elevated style and even termed several of his operettas "opéras comiques."



La fille de Madame Angot

, set after the revolution of 1793 features semi-historical characters, with the charming flower girl "Clairette" as the heroine of the story. Better educated than most of her associates and fighting an arranged marriage, she musically schemes her way to a happy ending. The graceful and melodious music made the operetta highly popular throughout Europe and the United States. Please join us next time as we explore Vienna's golden age of the operetta.

Charles Lecocq: La fille de Madame Angot, Act 1

After a hard day of coming to terms with personal demons and morbid obsessions in a mental institution, not everybody is in the mood to sit through a seemingly endless Wagnerian musical drama or the monumental theatricality of a Verdi opera. At least that's what Florimond Ronger (1825-1892) also known as "Le Compositeur Tocqué" (The Crazy Composer) thought. "Hervé," as he liked to call himself had studied with Daniel Auber at the Paris Conservatoire and was subsequently appointed organist at a mental institution in Paris called the Bicêtre Hospital. He started to organize concerts and dramatic performance to lift the spirits of his flock. And he started to write little musical plays in which the residents participated. News of these performances soon spread, and Hervé was offered the post of conductor at the Théâtre du Palais-Royal. Hervé appeared as author, composer, conductor, actor, tenor buffo singer and producer and further cultivated a musical genre of light entertainment, which he had created in the mental asylum. According to the composer Reynaldo Hahn, Hervé had invented the Opérette in Paris.