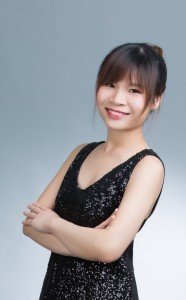 Rachel Cheung, a young pianist who started her training at the Hong Kong Academy of Performing Arts (HKAPA) and continued at the Yale School of Music, put Hong Kong on the performing stage this year with her position as a finalist in the Van Cliburn Competition. She didn't win the competition, but was presented with the Audience Award, a result of the daily votes given in by the audience at the competition.

Miss Cheung spoke about the long route to the finals: beginning with her application in October 2016. One hundred and forty competitors, chosen from the original 290 applicants, went on to do screening auditions. A total of 4 hours of music had to be prepared. When the final 30 competitors are assembled, they play a 45-minute recital of works of their own choosing plus the newly commissioned work by Marc-André Hamelin. The 20 quarterfinalists go ahead to play another 45-minute recital in a new program, not repeating what they played before. The semifinal round of 12 competitors has two parts: first, a 60-minute recital and then a performance of a Mozart piano concerto with the Fort Worth Symphony Orchestra, directed by Nicholas McGegan. The six finalists then perform a piano quintet with the Brentano String Quartet and another concerto with the Fort Worth Symphony, now conducted by Leonard Slatkin. It's an exhausting routine and Miss Cheung noted that during the last 3 weeks of the competition, she focused solely on the music – no social media, even!

One of the works Miss Cheung played for the preliminary round was Liszt's Mephisto Waltz No. 1.

Liszt: Mephisto Waltz No. 1 (Rachel Cheung, piano)
In the final round, she played the Brahms Piano Quintet in F minor.

Brahms: Piano Quintet in F minor, op. 34 (Brentano String Quartet; Rachel Cheung, piano)
We asked her about the commissioned work,
Toccata 'L'Homme armé'
, based on a French secular song from the mid-fifteenth century. Miss Cheung said that the first two weeks working through the score were difficult but then, finally, it clicked. The work was one of constant excitement for her.
Her next major performance will be her Carnegie Hall debut next March at Weill Recital Hall. This performance was a result of her win at the New York Concert Artists Worldwide Debut Audition, an international competition where the prizes are performances in the leading concert halls of the world.
We spoke about her education. She entered the HKAPA as a junior student, and worked intensively with Professor Eleanor Wong. She graduated with first class honours and a strong technical skill. Miss Cheung said that she learned not only the technique of performance but also how to feel and craft the details of a performance. One cardinal rule was to over-prepare for any concert! At the Yale School of Music, where she was awarded her Masters of Music, she worked with Peter Frankl. She found that at Yale, she was encouraged to build on her technique through her imagination. She was freed to form her own opinions and to work out problems and solutions herself. Yale gave her the opportunity to find her own voice – it's a great freedom, but requires that you be brave enough to take on that challenge.
In being awarded the Audience Award at the Van Cliburn, Miss Cheung said that she was glad that the audience appreciated her playing and recognized it. As a performer, she feels that she stands between the musical score on her stand and the audience in the hall. She plays to deliver the message of the composer to the audience. She always feels that the music, and therefore the composer, must always be higher than herself.
We talked about influential performers and she said the list was so long: Claudio Arrau, Annie Fischer, Murray Perahia, and Radu Lupu were just a few of the pianists she held in esteem. The availability of rare recordings on Spotify and YouTube was of importance in training one's ears.
When asked if she had any advice for HKAPA student or any students working in music, she said to always remember WHY they chose their career. Music is a difficult career and performers must have the courage to go ahead. Remember your passion. When Miss Cheung returned to the HKAPA after completing her masters at Yale, she found a new relationship with Professor Wong – she found a new freedom in working with her professor, who recognized that her Yale training had made her a more rounded pianist than the bachelor degree student she had known before.
In her spare time, on those rare occasions that she has some, she likes reading and has recently discovered the joys of going to the gym. In addition to helping her physically, it also frees her mentally from the often involved thoughts that chase through her mind as she works on a new piece of music. She finds the gym grants her a necessary mental freedom.
Official Website
45 min Semifinal Recital – Piano