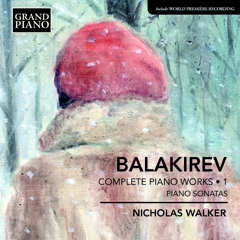 Piano Sonata in B flat minor
III. Intermezzo: Larghetto
Nicholas Walker
From Balakirev – Complete Piano Works Vol. 1 Piano Sonatas (2013)
Released by Grand Piano
Balakirev: Piano Sonata in B flat minor – III. Intermezzo: Larghetto

About M. A. Balakirev (1837 – 1910)

A brilliant pianist, improviser, noted conductor and selfless champion of other composers, Balakirev is surprisingly little known today. Yet as leader of the Russian composers known as 'The Mighty Handful', Rimsky-Korsakov, Mussorgsky, Borodin and Cui, he strongly influenced not only their work but also that of Tchaikovsky, Debussy, Ravel and Stravinsky, setting the standard by which others were judged. For a variety of reasons, however, he neglected his own composing, some works existing for years only in his head as unwritten piano improvisations. In the 1870s he worked as a clerk for the Warsaw Railway, after suffering a number of setbacks which resulted in a deep depression; in 1883 he was appointed to the post of director of the Imperial Chapel Choir, but it came with many administrative duties so that by the time of his final creative flowering (1900-1910) many of his earlier champions had died, and Balakirev himself no longer appeared in public as a pianist. By the time he could devote himself to composition, his style was no longer at the cutting edge, and most of his output fell into obscurity almost as soon as it was written.