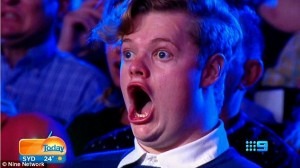 Attending a classical music concert still elicits visions of powdered wigs and stuffy concert halls, stiff collars and blue-haired ladies in mink stoles. Inaccessible, incomprehensible, controlled. One doesn't know when to clap, what to wear, how to behave.

Audiences can alter the experience both positively and negatively for everyone both on and off the stage. Since the classical concert experience is special, and today we have less experience with them due to dwindling funds for music education, it is important to know that certain behaviors are distracting to the musicians and other concertgoers.

Recently, during an Australia's Got Talent show, an unknown audience member was caught on camera making wacky facial expressions. Social media went viral. His jaw dropped, his huge mouth went slack, he grimaced. Nothing onstage could possibly compete with the bizarre contortions. Need we say that he got all the attention?

Today most programs begin with an announcement. A deep voice insists, "Please silence your cell-phones…" They know it's futile to ask today's audiences to turn them off. There are always people who simply cannot resist. What's wrong with one little text? (You have to decide where to meet up afterward for a beer), checking email between movements? (The conductor is boring to watch during the slow ending of Mahler Symphony No. 9), or scrolling through Facebook? (Especially if you don't think the soloists' tempo in the last movement of Saint-Saëns, Piano Concerto No. 5 is 'Molto Allegro' enough!) The beacon of light draws attention to the balcony and the texter is suddenly center stage.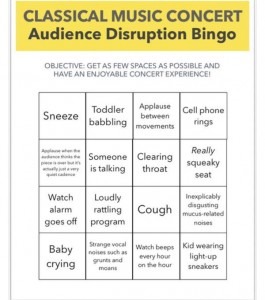 Before there was texting, there was knitting. Knit one…Pearl Fishers one…knit one… (Pun intended. The Pearl Fishers is an opera in three acts by the French composer of Carmen, Georges Bizet.) The New York Philharmonic digital archives indicate that during the war, knitting was a valiant effort for a noble cause and women responded in earnest. But did it have to be done in the concert hall? I polite note KNITTING DURING PERFORMANCES was issued.

What goes around comes around. Audience members are again bringing their knitting to the theater. Click, click, click, go the needles. Not quite as bad as crinkling candy wrappers, but…. How can knitting possible interfere with a performance unless one gets stuck in the eye with a needle while complaining to the Knitter?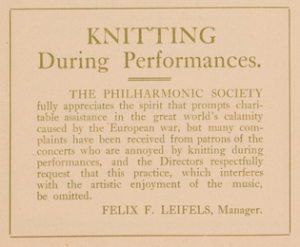 Knitting needles don't have lights and they don't have those nasty ringtones, you might say. Recently, an attendee was asked to stop knitting in the Vienna Opera House. It's too "dangerous" they told her. It was impossible to squelch the stubborn woman who took great pride in her knitting. She returned to the Opera House with silent needles—made of wood and bamboo!

Strauss Last Song No. 4
When a piece such as the Four Last Songs of Richard Strauss ends in a hush there is often someone who wants to be the first to clap or shout "bravo" before the last note dies out. (invariably in a live recording…) Conductor Andrew Litton tells the story that during a performance in Dallas between the third and fourth movements of Tchaikovsky's Pathétique Symphony an audience member shouted "Yee Haw!"

Musicians can be sidetracked by certain behaviors. In addition to: The Facebook scroller and The texter, please note that The high-healed foot tapper, The loud whisperer, The snorer, The fidgeter, The hair flouncer, The candy unwrapperer and The throat clearer (in the softest spots) are also unsettling.

Don't worry musicians are guilty too. Recently a conductor's watch flew off and landed in the cello section. Clunk! Another time, an energetic page turn propelled the huge score to Handel's Messiah on a cellists' head. No injuries reported. (It's always the cellos….)

You may not even realize the behaviors are distracting. I invite you to Play Audience Disruption Bingo. You get my drift—the least number of spaces means we all will enjoy the performance more.

Perhaps the concert hall is one of the last places where we can "unwire"—revel in the mystical, the meditative, and the revelatory. Classical music has indeed withstood the test of time. Like Shakespeare, Bach, Handel, Mozart and Beethoven represent some of the most magical and inspired masterworks ever create by mankind. You may not even know you've heard it—Beethoven's Seventh Symphony is the sound track to movies, The King's Speech, which still gives me the shivers, and Mr. Holland's Opus. Cartoons including Bugs Bunny, Tom and Jerry, and Mickey Mouse have featured the Hungarian Rhapsody No. 2 by Franz Liszt, and the gold medal winning commercial for Burger King, a Coke commercial and the movie "10" utilized Maurice Ravel's mesmerizing orchestral work Boléro.

The King's Speech and Beethoven VII symphony
Audiences have a profound affect on the performance. When they allow the experience to wash over them uninterrupted; when they are mesmerized, and drawn in; when they show great enthusiasm and clap enthusiastically, musicians and audiences feel fulfilled and gratified, and it's magical.

Several cartoon versions of Liszt Hungarian Rhapsody