Antonio Salieri, born on 18 August 1750 in the town of Legnago just south of Verona, was described as "the greatest musical diplomat, as he carefully cultivated friendships with people who could help him to build a career." The first such opportunity arose when the Viennese composer F.L. Gassmann travelled to Venice to oversee the production of his opera Achille in Sciro in 1766.
Florian Leopold Gassmann: Achille in Sciro, "Ah, ingrate, amor non senti" (Ania Vegry, soprano; North German Radio Philharmonic Orchestra; David Stern, cond.)
Salieri and Gassmann
Salieri introduced himself and Gassmann, noticing the talent and ambitions of the young orphan, took the 16-year-old boy back to Vienna with him. Salieri worked hard to master harmony and counterpoint, and eventually, he took over some of the operatic work that Gassmann would normally have done. A scholar writes, "He became less a student and more an apprentice, developing a knowledge of musical theatre by composing replacement arias for operas to be performed under Gassmann's supervision."
Antonio Saleri: Armida (Lenneke Ruiten, soprano; Florie Valiquette, soprano; Teresa Iervolino, mezzo-soprano; Ashley Riches, baritone; Namur Chamber Choir; Les Talens Lyriques; Christophe Rousset, cond.)

Emperor Joseph II
Salieri quickly developed close friendships with Metastasio, Gluck, and above all Emperor Joseph II. In fact, much of Salieri's success in Vienna was the result of the support of Joseph II, who through his influences with his brothers Leopold, Ferdinand, and his sister Marie Antoinette, paved the way for the composer in Italy and France. When Gassmann died in 1774, Joseph II immediately appointed Salieri as his successor as "Kammerkomponist."
At the age of only 24, Salieri was the music director of the Italian opera in Vienna. He immediately collaborated with the newly appointed theatre poet Giovanni di Gamerra on two operas for the court theatres. However, neither the comedy La finta scema of 1775 nor the spectacle Daliso e Delmita, staged one year later, was well received.
Antonio Saleri: La Finta scema, Act II "Se lo dovessi vendere"
Theatre Reform
If Salieri had hoped for an easy ride, it clearly wasn't to be as Emperor Joseph II completely reorganized the court theatres in 1776. In essence, his reform made possible the establishment of the first private and commercial theatres in Vienna. This set in motion the flowering of the Viennese theatre, even though the freedoms of these establishments were severely limited.
Theatre, after all, was an educational institution that was supposed to teach good manners and taste. Anything remotely offending politics, religion, and morality was strictly censored. And plays depicting death, funerals, or graves were strictly forbidden. As far as Salieri was concerned, the theatre reform shifted the emphasis of theatrical productions to spoken German drama, leaving little opportunity to compose operas in Vienna. As such, he quickly sought opportunities at opera houses in Italy.
Antonio Salieri: L'Europa riconosciuta, "Ah, lo sento"
Italian Adventures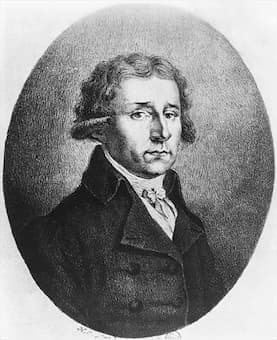 Salieri composed five operas for theatres in Milan, Venice, and Rome between 1778 and 1780, including L'Europa riconosciuta for the opening of La Scala in Milan. However, the comic opera that catapulted Salieri's fame across Europe was first given on 27 December 1778 in Venice. La Scuola de' gelosi (The School of Jealousy) to a libretto by Caterino Mazzolà unfolds in the spirit of Goldoni, and revolves around characters from three distinct social classes. The nobility is represented by Count Bandiera (tenor) and his Countess (soprano), the bourgeoisie by the grain dealer Blasio (bass) and his wife Ernestina (soprano), and the working class by Blasio's servant Lumaca (bass), who loves the chambermaid Carlotta (soprano). The Lieutenant (tenor) is the link between the classes, as Blasio is his cousin and the Count is his friend.
Antonio Saleri: La scuola de' gelosi, "Overture"
The Count finds Ernestina attractive. His attempts to seduce her inflame the jealousy of both the Countess and Blasio, who is so angry he locks up his wife. The Lieutenant advises Blasio and the Countess to make their spouses jealous. The Lieutenant has a similar role to Don Alfonso in Mozart's Così fan tutte, and he advises Blasio to leave a woman's portrait for Ernestina to find. The Lieutenant writes the Countess a love letter for the Count to discover. The tricks work; the jealousy that is aroused restores the equilibrium, and the opera ends happily.
Antonio Saleri: La scuola de' gelosi, "Staremo in pace e in giubilo"
Fame and Fortune
The opera was an immediate and lasting success, and it was subsequently given in ten Italian cities. Within a couple of years, audiences at Eszterháza, Vienna, Dresden, Brunswick, London, Warsaw, and St Petersburg saw a production, and a London newspaper writes in 1786, "The whole together is a masterly composition, and does great honour to Salieri, whose reputation as a composer must rise infinitely in the musical world, from this very pleasing specimen of his abilities." Salieri was on top of his game and Joseph II commissioned him to write a Singspiel in 1780. The Chimney Sweep, or The Indispensable Betrayers of Their Lordships out of Self-interest showcasing Vienna's most famous singer Caterina Cavalieri, who would subsequently create the role of Konstanze in Mozart's Entführung aus dem Serail.
For more of the best in classical music, sign up for our E-Newsletter
Antonio Saleri: Der Rauchfangkehrer, "Basta, vincesti…." (Diana Damrau, soprano; Le Cercle de l'Harmonie; Jérémie Rhorer, cond.)