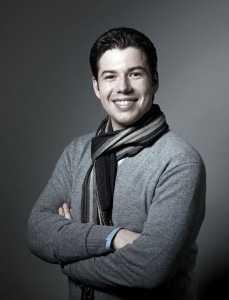 Future projects of young Italian tenor Antonio Poli include 2012 concerts with operatic arias in Hamburg, Frankfurt and Zurich, as well as Mozart's "Requiem" conducted by Antonio Pappano in Rome, Mercadante's "I due Figaro" at Teatro Real in Madrid conducted by Muti, a song recital at the prestigious Lucerne Festival, his debut in the part of 'Cassio' ("Otello") at Royal Opera House Covent Garden in London conducted by Pappano, his debut as 'Alfredo' ("La Traviata") in Venice, 'Don Ottavio' ("Don Giovanni") in Hamburg, and his debut in the part of 'Nemorino' in a new production "L'Elisir d'amore" in Graz.

2013 are scheduled his debuts as 'Fenton' ("Falstaff") at Teatro alla Scala in Milan and with La Scala on tour to Japan – both conducted by Daniele Gatti – as well as conducted by Mark Elder at the Glyndebourne Festival. At Staatsoper Berlin he will sing 'Nemorino', at Chicago Lyric Opera 'Cassio'.
2014 Antonio Poli will return for a new productions of "Don Giovanni" to London conducted by Nicola Luisotti and to Chicago.
2011 Antonio Poli made his debut in the part of 'Macduff' in a new production "Macbeth" in Rome conducted by Muti, took part in an operatic gala concert at Deutsche Oper Berlin conducted by Donald Runnicles, recorded Rossini's "Petite Messe Solennelle", sang 'Don Ottavio' at the Teatro La Fenice in Venice, at the Salzburg Festival he appeared in a new production "Macbeth" conducted by Muti and in concert performances of Stravinsky's "Rossignol" and Tchaikovsky's "Iolanta" conducted by Ivor Bolten. He made his debuts at the Salzburg Whitsun and at the Ravenna Festival in Mercadante's "I due Figaro" and at Rome Opera as 'Ismaele' in a new production "Nabucco" – all conducted by Muti.
He sang New Years Concerts (2010/11) at the Teatro La Fenice in Venice conducted by Daniel Harding.
2010 he made his highly acclaimed debut as 'Don Ottavio' in a new production "Don Giovanni" in Graz, sang 'Arturo' ("Lucia di Lammermoor") in Valencia, made a guest appearance as 'Hirte'/'Ein Junger Seemann' in a new production "Tristan und Isolde" under Gianluigi Gelmetti in Genova.
In 2008 was a member of the "Young ensemble" of Semperoper Dresden and sang 'Arthur' in a concert performance of "Lucie de Lammermoor" at the Concertgebouw in Amsterdam.
2007 Antonio Poli appeared as 'Bruschino figlio' ("Il Signor Bruschino") with the Orchestra Nazionale di Santa Cecilia under Carlo Rizzari and directed by Daniele Abbado, 2006 he sang the role of 'Alessandro' ("Il re pastore") with Roma Sinfonietta under Marcello Panni.
As a concert singer he performed Mozart's "Requiem" in Forlì and Rieti with the London Symphony Chorus, with the Maderna Orchestra and the Orchestra Giovanni Europei conducted by Paolo Olmi; at the Auditorio Parco della Musica in Rome and for the K festival with the Orchestra Nazionale di Santa Cecilia conducted by Paul McCreesh; in Palermo with the Orchestra Sinfonica Siciliana conducted by Lothar Koenigs.
He also sang Mozart's "Vesperae solennes de confessore" and "Krönungsmesse" conducted by Andreas Engelhardt, "Cantate Massoniche" KV 471 and KV 623 with the Orchestra di Roma e del Lazio conducted by Lü Jia as well as the "Magnificat" by Johann Sebastian Bach conducted by Martin Weber.
In Toronto he sang Rossini's "Petite Messe Solennelle" in 2009.
2010 he presented the programme of Salzburg Festival in London in two concerts, in Hamburg he sang Pendercki's "Polish Requiem" conducted by the composer and at the Reate Festival (Rome) he was heard in "Petite Messe Solennelle".
Born in Viterbo Antonio Poli in Rome with Romualdo Savastano, with whom he is still working today. He won various international voice competitions, including First Prize and Audience Prize at the Hans Gabor Belvedere International Singing Competition in Vienna in July 2010.
In summer 2010 he took part in the prestigious Young Singer's Project of Salzburg Festival.
Credit: Cæcilia Lyric Department
Related videos:
Antonio Poli Una furtiva lagrima

Antonio Poli

Antonio Poli – Nabucco 2011