This year, La Folle Journée is celebrating the 200th anniversary of Chopin's birth. I decided to take my mother, a Chopin enthusiast, for a special three-day musical marathon.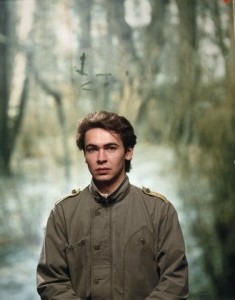 Once again, thanks to the concierge team at The Peninsula, I managed to secure a good number of tickets. Unfortunately some performances had sold out the day the tickets went on sale, but I did get places at a grand total of ten concerts, chosen mainly according to the programme as many of the artists were unknown to me.

The artist I was most looking forward to seeing was Ivo Pogorelich. I had never heard him live in concert, but own many of his recordings. His rendition of Scarlatti's Sonatas is definitely one of my favorite CDs. He was performing Chopin's Piano Concerto No. 2 with the Sinfonia Varsovie, an outstanding orchestra which had participated in the Queen Elisabeth Musical Voyage.

The Piano Concerto No. 2 is not as popular as No.1, but personally I prefer it as I find the music much more mature and intellectual. The second movement is just so beautiful that it often brings tears to my eyes.

I almost cried while listening to Ivo this time too, but for rather different reasons. I was in fact terribly disappointed. I have never heard such a strange interpretation of the concerto. There was no melody, no communication, no feeling. Ivo invented new phrasing with extensive emphasis on the left hand. The tempo was slow, heavy, and the sound harsh. It was a massacre.

As for the second movement, it was to die for, literally.

The public was enthusiastic nonetheless. Over the course of the Festival, I found the Japanese audience extremely polite. Out of respect for the artists, they always showed enthusiasm and gratitude. In response to their applause, Ivo repeated the second movement as an encore. My heart was breaking for poor Chopin!

Last year, the theme of the festival was "Bach is back". I listened to Boris Berezovsky and was extremely disappointed by his Bach piano concertos. Nevertheless, I wanted to give Boris another chance as I thought his Slavic temperament  might resonate better with romantic Chopin than with Baroque Bach. So I eagerly awaited his Chopin's Piano Concerto No.1, the more popular and catchy of the two.

I must say that my heart went out to Boris. I felt real compassion for him as he sat in front of the piano. The look on his face reminded me of my own feelings when I go for my weekly cardio sessions on the treadmill. It seems we both dread the upcoming 30 minutes. However, I do my exercise dutifully, and feel good once it is over and done with! I got the distinct impression Boris felt the same way about the concerto.

At least I am luckier than Boris in that I get to watch "The Weakest Link" while running on my treadmill. Boris only got to watch the conductor's back! Poor Dimitri Liss, struggling with the Orchestre Philarmonique de l'Oural, did not even glimpse at his soloist. He was too busy trying to get the orchestra to follow the growing speed of Boris' rendition.

The concerto was over in a record time. There was no phrasing, no breathing, not even a second's pause to digest the notes. It seemed Boris wanted to leave as soon as possible. I'm not sure what for. Maybe to catch a Shinkansen?

Now, let's say a big Thank You to organiser René Martin for some beautiful concerts; The "Variations on 'La Ci Darem La Mano', for piano and orchestra, Op.2", inspired by Mozart's Don Giovanni, was a beautiful piece. Pianist Philippe Giusiano played diligently, accompanied by Sinfonia Varsovia. It was a joy to discover this piece.

Anne Queffélec played Chopin's Piano Concerto No.1 in a rearranged version for a small string orchestra of 21 musicians. It was intimate, delicate, and beautifully delivered.

Other programmes included contemporaries of Chopin. We heard Mendelssohn's Violin Concerto No. 2 twice. Young Korean violinist Ye-Eun Choi was intense and gave an intellectual interpretation of the concerto, especially in the first movement where new colours were revealed. Japanese violinist Kyoko Takezawa delivered a passionate and mature version, accompanied by the Hong Kong Sinfonietta. The concert was a pure delight.

French pianist Jean-Frédéric Neubuger gave an outstanding performance of Schumann's Piano Concerto in A Minor. He is clearly a rising star and not to be missed.

"Les Funérailles de Chopin" was our final concert. The programme was a replica of the music played at Chopin's funeral, on 30 October 1849. The ceremony was held at the Church of La Madeleine in Paris, in keeping with Chopin's wishes. Mozart's Requiem was sung. Also featured were his Préludes No. 4 in E Minor and No. 6 in B Minor, played on the organ. At our concert, the two Préludes were played by a young Japanese organist, on a small organ in the middle of the stage. The lights were dimmed, lending the evening a dark and sombre mood.

Chopin was buried in Père Lachaise cemetery. A rearrangement of the Funeral March was played by a small orchestra at the graveside. For us, the Funeral March was brilliantly delivered by Sinfonia Varsovia, without a conductor. And lastly, the "pièce de résistance", Mozart's Requiem, brought to life by the Ensemble Vocal de Lausanne, under the baton of Michel Corboz, one of the greatest conductors of Baroque and Renaissance music. No words can describe the greatness of this masterpiece, and the emotions inspired Michel Corboz. It was an intensely moving experience.

Related videos:
Variations on 'La Ci Darem la Mano', for piano and orchestra, Op.2
performed by Vestard Shimkus
Part 1/3

Part 2/3

Part 3/3

Ye-Eun Choi and the New York Philharmonic

Kyoko Takezawa plays Ysaye, Eugene Op.15 Chant d'Hiver (Wintersong)

Jean-Frédéric Neubuger plays Chopin Nocturne No.2

Michel Corboz and L'Ensemble Vocal de Lausanne

A Trip to Remember
My mother had not been to Tokyo for many years, so I wanted to make this trip a memorable one.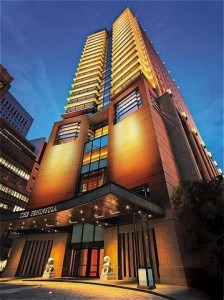 We stayed at the Peninsula Hotel, not only for the comfort and the extremely helpful concierge team, but also for its convenient location in Ginza, just five minutes' walk from the concert halls.
I also planned dinners at some of Tokyo's best restaurants. Ma is a true gourmet and appreciates fine dining.
Sushi Aoki is a small restaurant located on the second floor of an old building, in the heart of the Ginza district. The small counter seats around a dozen patrons. You don't really get to choose your food as there's no menu, and not speaking Japanese makes any attempts at expressing your wishes futile. Basically, you get served the produce of the day.
That's fine because the Sashimi and Sushi are of the highest quality. While we were there, the chef behind the counter, although busy with the preparation of the dishes, was very attentive. We had a great meal of succulent fresh fish and seafood and will definitely come back to this unpretentious but excellent restaurant.
Ma had never experienced Molecular Cuisine, and explaining exactly what Molecular Cuisine is was not only difficult, but just about impossible. So I decided to take her to the Tapas Molecular Bar at the Mandarin Oriental Hotel.
Personally, I prefer traditional, even simple, cuisine. However, as Molecular Cuisine has been the talk of the town for so long, I felt Ma should really experience it for herself. Some of the dishes on the set menu were tasty, some were creative, all were intriguing. Overall the meal was a success and Ma had a great time, which is the most important thing.
We also went to the restaurant of Joel Robuchon, one of the most famous living French chefs, and arguably the best. People rave about his Tokyo restaurant, and visiting it for the first time with my mother was truly special.
The Chef and Director in charge is Alain Verzeroli, an old acquaintance from Hong Kong. Before moving to Tokyo, Alain spent a few years at Petrus, the Island Shangri-La's fine French Restaurant. We used to have a great time feasting on the special menus he created for us and our friends. It was great catching up with Alain, and reminiscing about the good old days. Moreover, seeing his maturation into an established world class Chef was very heartwarming.
The dinner was absolutely delicious, "sans chichi", outstanding in every aspect. It was on the same evening as the "Les Funérailles de Chopin" concert, so for us, the day was an unforgettable feast, composed of a remarkable concert coupled with an exceptional dinner. What more could one ask for?
Photo credits:
bach-cantatas.com
,
whatahotel.com