Spanish composer Alfonso Romero Asenjo (b. 1957) has been called a 'trans-avant-garde' composer: 'it is neither here in the vanguard nor beyond it, but it takes it into account, knows it, values it, uses it eventually if it needs it and stays within its own language limits.'
Dr Asenjo began piano at age six and studied both music and economics. Following his graduation, he worked as an economist before returning to music and getting degrees in composition and orchestral conducting at UCLA. His principal works are symphonies and concertos, including piano concertos, a concerto for two violins and orchestra, and the cello concerto we'll be hearing today.
Dr Asenjo's 1996 composition Concerto for Cello and String Orchestra starts us in a dark world for which the entry of the cello does not bring light. The string orchestra sets up a dense sound environment and, above it and through it, the cello winds long melodies. The string orchestra seems to form blocks, rather than moving with any strong contrapuntal action. The cello enters this world and it's almost as if the cello is casting around, seeking a way out of the dark forest created by the orchestra. In its travels, it still hides – we glimpse it here and there, and even when it goes into its highest range, the violins counter it. The rhythms can be driving or languorous, but always interesting.
Stylistically, this doesn't have the dissonance and movement we associate with avant-garde music, but this isn't a typical concerto either. There aren't any real cadenzas, the cello doesn't emerge often from the massed string sound and we're left with more of a sound emotion than a feeling of showing off that most concertos generate.
Alfonso Romero Asenjo: Cello Concerto (Iagoba Fanlo, cello; Cammerata Orchestra; Joaquín Torre, cond.)

Cellist Iagoba Fanlo is head of the String Department at the Real Conservatorio Superior de Música de Madrid, where Dr. Asenjo is head of the faculty of composition.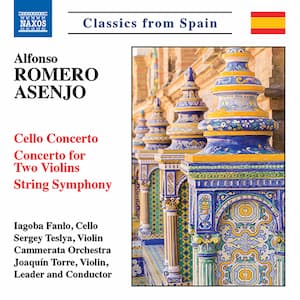 Alfonso Romero Asenjo: Cello Concerto

Performed by
Iagoba Fanlo
Cammerata Orchestra
Joaquín Torre

Official Website
For more of the best in classical music, sign up to our E-Newsletter