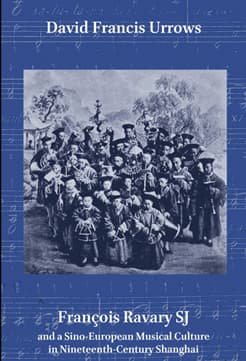 François Ravary SJ and a Sino-European Musical Culture in Nineteenth-Century Shanghai is a recent publication written by Dr. David Francis Urrows. Following Keys to the Kingdom: A History of the Pipe Organ in China, this book turns the discussion of the history of the pipe organ in China to François Ravary (1823–91), who was the "mastermind behind the 'Bamboo Organ of Tungkadoo.'" François Ravary, a Jesuit missionary, musician, and organ builder, was an influential figure in Sino-European musical activity. For instance, he was credited with starting the first brass band and first school orchestra in China. Through years of research, Dr. Urrows has discovered many sides of Father Ravary. This book aims to unfold the life of Father Ravary and his contribution to music in China.
Dr. Urrows was one of my former teachers at Hong Kong Baptist University. I am honored that he has agreed to be interviewed, which gives me the opportunity to learn about the history of the pipe organ, the story of Father Ravary, as well as Dr. Urrows himself.
When did you begin this research about the pipe organ in China?
The research project started in 1989 when I began The Pipe Organ in China Project at HKBU. Of course, for a long time, people thought I was crazy and that there was nothing really in this topic to research. But I persevered for years, even when I was living in the US between 1991 and 1997, and found it very difficult to acquire new data. The present book is a spin-off of my 2017 cumulative study, Keys to the Kingdom: A History of the Pipe Organ in China (Leuven: Ferdinand Verbiest Institute, 2017). The letters of Father Ravary, as I explain in the Preface to the new book, were fascinating, but it was not possible to include all of them in Keys to the Kingdom, and I tried for several years to get funding for a project that would allow me to publish them. So, in a sense, the book proposed itself to me when I found Ravary's letters in the Jesuit Archives in Vanves, France, in the Spring of 2010. No one had looked at these letters in over a century.
How did you discover François Ravary? In your preface, you mentioned that you found the 1860 Album chinois at an antiquarian book fair, which consists of some photographs related to this subject, what a coincidence! But was it?
I found out about François Ravary around 2007, when I had a research assistant, Florence Cheng, working with me on The Project, who spent some time trolling Chinese websites looking for data. She's the one who came up with Ravary's name; and a colleague of mine in Beijing also found his name, and that of Léopold Deleuze, who did the actual building of the bamboo organs, around the same time. So, things began to come together around 2008/09. However, no one knew anything other than what had been printed in some histories of the French Roman Catholic mission in the Jiangnan area between the 1890s and the 1920s. Where the source documents might be, if any survived, was very unclear. This required site visits to archives and libraries in Europe, and that meant time away from Hong Kong, and that meant money; and it was extremely problematic to convince the Dean of the time that actually, No, not all research can be done online.
So that covers my discovery (or to use the trendy term, recovery) of the letters in 2010. The photographs, as I explain in the Preface, were another unexpected find, at the 2014 China in Print book fair, held in Hong Kong. If you think it was 'no coincidence', then you are suggesting that it was an example of Jungian synchronicity. Well, maybe it was. No one has ever been able to prove that synchronicity is a real thing, attractive as it is as an explanatory concept. I went to a book fair (books), that focused on China (books about, or printed in China), that was mostly antiquarian (old books related to China), and also sold photos and maps (old books containing photos of China…) So, I had narrowed down the chances of seeing something interesting, but that's as much as you can say empirically, I think, about my encounter with one of the three surviving copies of the 1860 Album chinois.
If you can add one more chapter to the book, what would it be?
I already added one more chapter than planned, by splitting my planned Chapter 4 into two chapters (4 and 5) so that I could try to separate Ravary as a musician, and Ravary as a missionary (or as they are called, missionario-musicista), even though the book is not primarily about religious mission in the theological sense. My comments in this area are mostly on music as a means to education and evangelization.
However, the one topic I have always been hesitant to get into in China music and mission studies is repertoire. This seems to me to be a black, and bottomless pit, because we know so very little about just what was performed. Ravary's letters mention a number of specific works and several composers, and this is big a reason why they are so important, in my opinion. An additional chapter might try to address this topic (repertoire) further, or further than I have done. But in my experiences in China studies, when it comes to music repertoire in the missions from the late 16th C. onwards, most of what people write – and then perform – is 10% based on documentation, and 90% based on fantasy, resulting in a kind of musical chinoiserie of a New Age type. I don't want to promote, much less add to this pile of pseudo-scholarly dreaming, pleasant as it is to listen to…
What is your next project?
My projects for the immediate future are all new compositions and working on getting more of my original music compositions published… I do, however, have a Ravary-themed concert of "Music from the Shanghai Missions, ca. 1860" planned for some future date in Macau, when we are past the epidemic and can hold this kind of event again.
I am sincerely looking forward to the Ravary-themed concert in the future. Before that, let's listen to some compositions by Dr. Urrows!
For more of the best in classical music, sign up to our E-Newsletter
David Francis Urrows: Ricordanza dell'Umbria (1987)
David Francis Urrows: Toccata, for mixed voices and piano, 4-hands (1982)
David Francis Urrows: Trumpet Tune (from Four Brief Pieces) (1992/93) for organ