Ferdinand Thieriot (1838-1919) started his musical studies, like Brahms, in Hamburg on piano with Eduard Marxsen before going on to Munch for organ studies with Josef Rheinberger and cello studies in Dresden with Friedrich August Kummer. Supported by Brahms' recommendation, he was appointed artistic director of the Steiermärkischer Musikverein of Graz where he stayed for 15 years. His next move was to Vienna where he became director of the Bach Gesellschaft.
Thieriot's chamber music is considered his finest work. He wrote 4 piano trios, 13 string quartets, 2 octets, a quartet for flute and string trio, a quintet for piano and winds and another for piano and string quartet. His oeuvre as a whole includes operas, cantatas, and over 2 dozen symphonic works, as well as instrumental concerto.
His String Trio No. 2 in A minor was only published in 2004 and exhibits an interesting control over a difficult genre. In writing for violin, viola, and cello, it's difficult to keep the voices connected due to the dissimilarities in the range and sound of the three instruments. In listening to Thieriot's composition, you hear how he compensates for the different ranges by giving each instrument distinctive melodic lines.
Ferdinand Thieriot: String Trio No. 2 in A Minor – I. Tempo moderato (Lubotsky Trio)


The music is performed by the Lubotsky Trio, led by Russian violinist Mark Lubotsky. As a violinist, he was recognized by composers such as Alfred Schnittke, who dedicated not only his second violin concerto but also three violin sonatas to him, and Benjamin Britten, who insisted that he be the performer for the recording of his Violin Concerto, Op. 15. Swedish violinist Katarina Andreasson plays the viola on this recording, Concert master of the Swedish Chamber Orchestra, she also has an international career as violin soloist and chamber musician.
Her conducting debut was with the BBC orchestra in Belfast, Northern Ireland. Russian cellist Olga Dowbusch-Lubotsky started playing the cello at age seven and then studied in Moscow and Hamburg, Germany. The Lubotsky Trio was formed in 2003 and this recording was made in 2018.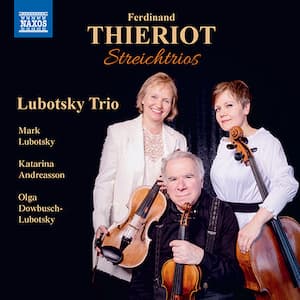 Ferdinand Thieriot: String Trio No. 2 in A Minor – I. Tempo moderato

Performed by
Lubotsky Trio

Official Website
For more of the best in classical music, sign up to our E-Newsletter