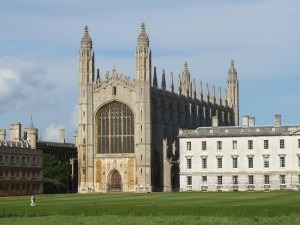 As a music student here, it seems odd that, for a university with such an amazingly diverse and active music scene, performance at Cambridge makes up a very small amount of your final degree. The option to give a recital only appears in your third and final year here, and even then it's just that – an option, one of six papers to choose to contribute towards your final mark. If you wanted, you could spend your whole time here doing a music degree without actually giving a performance (with the exception of a small set of harrowing keyboard proficiency exams at the end of year one – just thinking of them makes my toes curl). Why, then, is there so much music going on? Why do we spend our time performing when our next essay on Shostakovich's Fifth String Quartet is due tomorrow morning but instead you're sat in a rehearsal for Haydn's Creation? That's in addition to the people that don't even do music as a subject; in any orchestra, only probably half the musicians (give or take) actually read music as a subject. Well, I'm here to (hopefully) answer these questions, and to give a general picture of what music actually happens here.

Perhaps what springs to mind first when thinking about music in Cambridge is one of its oldest traditions: the chapel choir. Although the levels of commitment in terms of hours per week vary, most colleges possess their own choir which sings in weekly services in the college chapel. In addition to this, chapel choirs often undertake ambitious tours and recordings, with destinations ranging from Cornwall to Australia!

Despite the large chunks of time that get eaten up by being in a choir, many of the university's choral scholars also find time to get involved with various other styles of music happening around the town. Every year, the Cambridge University Opera Society puts on a fully staged opera, and choral scholars often feature in many of the leading roles and chorus parts. Recent operas put on by CUOS include Die Fledermaus (2012), Le Nozze di Figaro (2011) and Pelléas et Mélisande (2010). What's more is that it's not just opera and choral music that are well represented on the vocal scene – the famous ADC theatre plays host to many musicals throughout the year, with shows such as the annual Footlights Pantomime consistently playing to a sold-out theatre.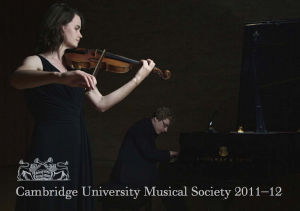 The pit bands and orchestras for these shows consist of some of the university's best instrumentalists, but there's much more going on than just that! The Cambridge University Musical Society (CUMS) consists of four orchestras, a chorus and a chamber choir, all of which give various concerts throughout the year. Personally, one of the most exciting events of this year was being part of a collaboration between the CUMS Symphony and Chamber Orchestras, giving a concert performance of Act III of Wagner's Parsifal in King's College Chapel with combined college choirs and professional soloists under Sir Mark Elder. In addition to CUMS, each college has its own music society which gives concerts ranging from weekly solo recitals to full-scale orchestral concerts.

With this said, there are also less 'formal' ways to get involved, with some of the best concerts being the result of a group of friends getting together and playing – and not just chamber music! Frequent orchestral concerts happen that aren't part of any society – simply friends organising their own performances. And just like the choral scholars, many musicians who take part in classical performances have an equal talent in the jazz field, which is represented very highly in Cambridge. Most colleges have their own jazz band, with the best players forming the University Jazz Orchestra who, like many chapel choirs, tour frequently along with making numerous recordings.

So, back to why this all happens. I think it's safe to say that there isn't one specific explanation, but I think I touched upon one of the main reasons a bit earlier, when I mentioned that it's frequently groups of friends that put on concerts. Without trying to sound cheesy, people here perform because of their sheer love of music. Ok, that didn't work so well, but nonetheless it's clear to see at any rehearsal or concert; the performances don't count towards anyone's final degree, and you don't get paid to play. The students here work to make the music scene as diverse as possible, following up their own interests in their own time, and loving it. I didn't even get chance to cover the other styles represented in Cambridge: folk, rock, early music, gamelan… the list goes on. And remember, this is just what the students do – there's a whole other world of concerts put on by professional ensembles!