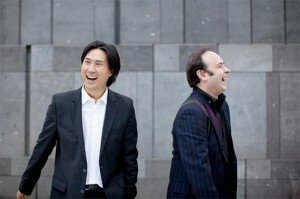 The piano and violin duo Aleksey Igudesman and Hyung-ki Joo have given any number of audience members a new way to hear music that could, perhaps, be too familiar.

Here's Mozart's Turkish Rondo, first in its original and then with a key change, then with a note change and all of sudden we're in some mix of Middle Eastern / Far Eastern Mozart!


Mixing in other music, often takes Mozart elsewhere – So here's a mix of Mozart and Mr. Bond and never having to say you're sorry.


Joo's solution to playing a work that requires hands that stretch to more notes than he can manage is, I'm sure, a solution sought by many pianists.


Igudesman demonstrates how tied some performers can become to their music, with a bit of Celtic dancing thrown in.


Disco in an older style? With a milk frother?
A kit violin is one that dancing masters could keep in their jackets should playing some dance music on fly be necessary. Igudesman takes it into the modern age. And meanwhile, the audience wonders how the piano stays up.


And what damage you can do when you have control of the remote, or what's really happening in your CD player.