Outside Vienna, the finest waltz composer the world was acknowledged to be Tchaikovsky and another Russian master of this light genre was Alexander Glazunov (1865-1936).
Between 1905 and 1928, he was director of the St. Petersburg Conservatory and shepherded it through the early years of the Revolution through its changes into the Petrograd Conservatory and the Leningrad Conservatory. His best-known student was Dmitri Shostakovich.
As a composer, Glazunov showed the influences of his predecessors, it being said that he had 'Rimsky-Korsakov's orchestral virtuosity, Tchaikovsky's lyricism and Taneyev's contrapuntal skill.' All of these combined together in his ballet scores for Raymonda (1898) and The Seasons (1899), but his skill was first seen in the first of his concert waltzes, the Concert Waltz in D major (1893).
Its opening, with the bell-like harp notes, gives the dancers time to take their places before the first theme sweeps off into a glorious waltz. The whole work shows the colourful orchestration and the command of his orchestral forces that Glazunov demonstrated already so early in career. Glazunov presented a manuscript score to his one-time teacher Rimsky-Korsakov and the work has become one of Glazunov's most famous works.
Glazunov: Concert Waltz in D major, Op. 47
In this 1953 recording, made at the Palais des Beaux-Arts in Brussels, conductor Franz André leads the Orchestre Symphonique de l'Institut National de Radiodiffusion, Bruxelles.
Founded in 1938, the symphonic orchestra was one of 5 orchestras at the National Broadcasting Institute of Brussels. Belgian conductor Franz André studied violin at the Brussels Conservatoire before doing further study in Germany. He was one of the founders of the National Broadcasting Institute's Symphony Orchestra and made nearly all of his recordings with the orchestra. This recording of the Glazunov waltz was described by one critic as bringing 'all the verve of the "belle époque."'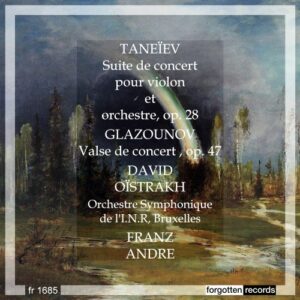 Performed by
Franz André
Orchestre Symphonique de l'Institut National de Radiodiffusion, Bruxelles

Recorded in 1953

Official Website