The last time I was in Singapore, it was a long time ago. Back when the children still enjoyed playing in the sand and splashing in the pool, we had a short stay at Sentosa, a holiday resort island which you cannot exactly call Singapore.

So this time, when I had to come for a meeting, it was a good opportunity to enjoy this buoyant city properly.

After an extensive search on the internet, the only concert I found was a chamber music one with winds, staged at the Arts House, which used to be Singapore's first Court House and former Parliament House.

Built in 1827, the whole venue was turned into a multidisciplinary arts centre in 2004, which was a great idea because once you are there, you can feel the interesting melange of the history's imprint and the next generation's cultural influence.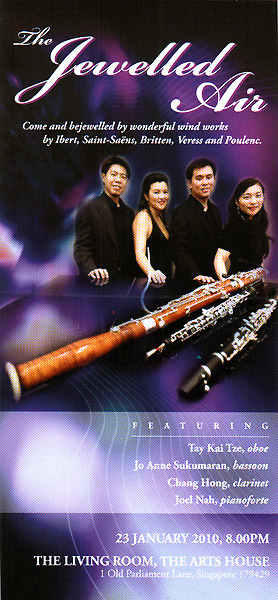 The small salon located on the first floor of the colonial building is absolutely charming, with little chandeliers dangling from the ceiling, and rows of chairs covered in white fabric. The capacity is for 60, and the venue was almost full.

The wooden floor might be very elegant for a government building, but unfortunately, acoustics-wise, it was a bit inappropriate for a concert, especially one that featuring wind instruments.

Nevertheless, the evening's programme was a very interesting one, with pieces by Jacques Ibert, Benjamin Britten, Camille Saint-Saëns, Sandor Veress and Francis Poulenc. The ensemble featured Chang Hong playing the clarinet, Tay Kai Tze the oboe, Jo Anne Sukumaran the bassoon and Joel Nah at the piano.

Each piece was introduced by the musicians in a simple and casual way, with details about the composer and background of the composition. The whole atmosphere was intimate, warm and friendly, and completely in tune with the spirit of chamber music.

Tay Kai Tze, the oboist, and probably the most mature out of the four musicians in terms of experience and expression, played the Six Metamorphoses after Ovid by Benjamin Britten, a very intriguing piece that is unfortunately rarely performed.

The Sonata for Bassoon and Piano by Camille Saint-Saëns was a pure delight. Jo Anne Sukumaran played it well, but probably needs a bit more assurance to relax and fuse with the music.

It was overall a pleasant evening – the musicians were young, and so was the audience, which is quite rare nowadays, and very comforting to know for the future of classical music.

And we must give credit to the performers for putting together such a special programme. The music was well-executed, and I am sure that with more practice and exposure, these young artists will reach the right level of musical maturity.

Six Metamorphosis after Ovid: Pan
with the British oboist Nicholas Daniel

Sonata for Bassoon and Piano by Camille Saint-Saens


Singapore

For my two-day stay in Singapore, I decided to give myself a treat, and therefore checked into the famous Raffles hotel.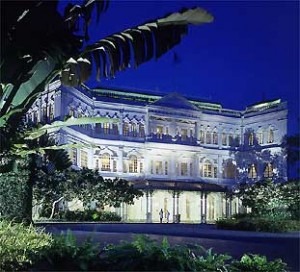 This Singapore "grande dame" lives up to her reputation, with imposing colonial architecture, impeccable service that recalls the style of the last century, and suites inspired and named after personalities such as Charlie Chaplin, Noel Coward or Somerset Maugham.

The only flaw was the bathroom, which unfortunately also seems to be imported from the last century. The plumbing definitely needs to be revisited.

Singapore is famous for hawker's food, but has also an extensive list of good restaurants. My friends took me to two excellent ones: One is The Long Beach Seafood Restaurant, a very casual Chinese restaurant with extremely fresh seafood. Among the numerous dishes we had was a memorable black-pepper crab, and also steamed clams with garlic and vermicelli. I must say that we have similar restaurants in Hong Kong, but the quality and the freshness of the produce simply cannot be compared.

The Tippling Club, a spot opened by Australians, is another treat.

This is a new kind of nouvelle fusion cuisine, where the portion sizes are decent enough for human consumption, and despite the nouvelle label, the dishes were tasty, and you can even tell exactly what you are eating.

Although my stay was short, I managed to spend some time at the Orchid Garden, which was absolutely stunning, with a huge variety of orchids, which are my favourite flowers.

Nature is amazing, as is human creation. There are almost 25,000 species of orchids, with about 800 new ones added every year. In the same way as in music, using only on few notes, an important number of masterpieces have been composed, and more are being created in various genres.

The human imagination is infinite, let's use it to preserve the world and make it a better one.

Photo credits: travelmodule.csiadmin.co.uk