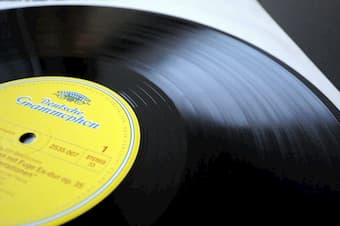 My son (22) amused me when he told me recently that one of the reasons why he liked LPs was "because of the crackles". For someone who has grown up in the digital age, with almost unlimited access to superb-quality recordings of any genre of music, his further assertion that the "crackles" lent a certain "authenticity" to the recording interested me.
I'm old enough to remember analogue technology. I grew up with it and it was only in the late 1970s that my father purchased what was then a rather swish and expensive "HiFi", a sleek 'Beosystem' , designed by the Danish electronics company Bang & Olufsen. It had pride of place in the living room, its speakers positioned to offer the best possible sound for the room, and my parents' large collection of LPs of (mostly) classical music and jazz were neatly filed, in alphabetical order, on a shelf below.
Edvard Grieg: Piano Concerto in A Minor, Op. 16 – II. Adagio (Clifford Curzon, piano; London Symphony Orchestra; Oivin Fjeldstad, cond.)


There's a ritual to playing LPs which I am sure my son, and others of his generation, really appreciate today. LPs are fragile, prone to scratches which could render them unlistenable, their finely-grooved surface host to dust which could clog the stylus and dull the sound. To play an LP, you would first have to find it in your record collection, gently leafing through those slim cardboard covers("sleeves"). You draw it reverentially from its sleeve, and then its paper slipcase. Before placing it on the turntable, it would need to be cleaned with a special cloth or brush which could pick up the fine particles of dust (a teeny-weeny 'toothbrush' was used to clean the stylus). There were inevitably a few crackles and pops before the music began, but these introductory sounds were part of the listening experience (they often appeared at the end of the music as well). There was something quite romantic about the process and the experience of listening to an LP, something that is missing from CDs, and the effort it takes to prepare an LP perhaps requires more dedicated, concentrated listening.
And then, of course, there was the album artwork. A whole genre of art and design has developed through the creation of LP covers, with some earning iconic status (such as the banana by Andy Warhol which graces the cover of The Velvet Underground & Nico or Peter Blake's cover for Sgt Pepper's Lonely Hearts Club Band). Classical LP covers were also imaginatively designed, using striking designs and images to pique the listener's attention before a single note had been heard (there are also some oddities, and downright bizarre or questionable designs, and these are the subject of many an amusing article or compilation). Certain labels, such as Deutsche Grammophon with its bright yellow logo, had very distinct branding, which has continued into CDs and digital recordings.
Franz Schubert: Symphony No. 9 in C Major, D. 944, "Great" – I. Andante – Allegro ma non troppo (London Symphony Orchestra; Josef Krips, cond.)

When CDs came into vogue in the 1980s, many people bewailed not only the loss of the album artwork but also the "sleeve notes", the detailed programme notes which were usually printed on the reverse of the album cover. Sometimes sleeve notes could be used not only to express the author's opinion about the music on the album but also to ponder its social and political significance. CDs, with only about 25 sq. inches of available space for liner notes and commentary, contributed to the demise of the detailed sleeve note, although recording labels today often include a booklet with the CD, detailing what and who is on the recording. But reading a CD booklet is not nearly as satisfying as holding a 12 inch square album cover.
There's been a resurgence in interest in LPs in recent years, with classical as well as pop and jazz labels producing a 'vinyl' alongside a CD or digital release. Fans of vinyl praise the "authentic" or "more accurate" sound reproduction, but I suspect the real pleasure of vinyl LPs is because these are tactile, visually-appealing objects. You feel an LP, holding it in your hands before placing it on the turntable, and you need to handle it with care, treat it right. There's a richness and depth to vinyl too, and the sounds are coaxed out of those myriad tiny grooves through a precious stone, a diamond, which magically rides all those bumps and grooves.
Neglected, LPs can scratch and warp, making them unplayable. But treated with care and respect, they can last for years – just like old friends.
For more of the best in classical music, sign up to our E-Newsletter