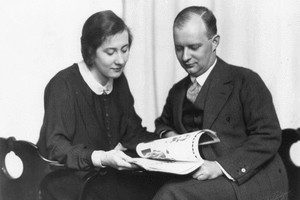 Paul Hindemith: String Quartet No. 3 in C major, Op. 16

The attentive and regular reader of my "In Love" column has surely come to understand that when it comes to musicians, artists and composers, love might not be the most accurate word to describe their world of interpersonal relationships. But fear not, there are always exceptions to the rule. Take for example Paul Hindemith and Gertrud Rottenberg, who formed a lifelong partnership of love, respect and devotion to music. It all started when Hindemith, aged 19, was appointed 1st concertmaster at the Frankfurt Opera Orchestra. "They made the audition very difficult for me. I played the 1st movements of the Brahms and Beethoven concertos for the director and both conductors… I played another audition on the following Thursday at which, the Amsterdam conductor Willem Mengelberg and a lot of our orchestral members were present. Everything went well; Mengelberg however, absolutely did not want to grant me the position because I was much too young. However, when I had to play extremely difficult passages from Salome (that I had never seen before) and sight-read them smoothly, he could no longer make any objections."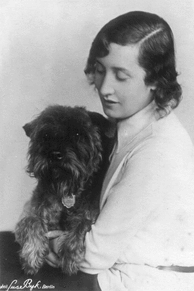 The second conductor present during Hindemith's audition was Ludwig Rottenberg, who had gained a reputation of turning the Frankfurt Opera into a center for contemporary opera. Theodor W. Adorno wrote in 1932, "He performed modern operas long before they had arrived; he was the first in Germany to perform Pelléas of Debussy and the first to conduct Schreker." In addition, Rottenberg also had several beautiful and highly talented daughters. His eldest daughter Gabriele was happily married to Dr. Hans Flesch, the artistic director of the Frankfurt Radio. His youngest, named Johanna Gertrude — but everybody simply called her Gertrud — had studied voice and acting in Frankfurt and Paris, respectively. She soon appeared in concerts in Mainz and Heilbronn and took minor roles in various film productions. She also was a highly talented pianist and cellist, yet suffered from terrible stage fright, which ultimately prevented her from pursuing a career in music and in film. Ludwig Rottenberg thought very highly of his young concertmaster, who quickly made his name at the "Donaueschingen Chamber Music Performances for the Furtherance of Contemporary Music." The press enthusiastically reports, "Hindemith's composition reveals a rich, original gift for invention, a boldness of disposition and composition that allow him to be recognized as an outstanding talent." And Rottenberg freely extended his generous hospitality to the "outstanding talent," and regularly invited the young composer to his home.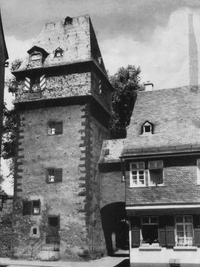 Throughout his life, Hindemith was known as a practical joker, and it was inevitable that Amor found receptive hearts for his piercing arrows. And so it came to pass that on 15 May 1924, Paul Hindemith married Gertrud Rottenberg. The couple moved to the upper floors of the Kuhhirtenturm (Cowherd's tower), part of the medieval fortress of Sachsenhausen dating from the 14th century. Hindemith had bought the property in 1923, and thanks to a highly lucrative commission from the Viennese pianist Paul Wittgenstein who had lost his right arm in the First World War, Hindemith was able to bear the costs for renovation and rebuilding. He installed a new stairway, bathrooms and a telephone line. The press eagerly reported, "At the old Cowherd's Tower, piano and harmonium, tables and beds floated upwards, then disappeared through the windows into the interior…May Paul Hindemith, who is presently performing the premiere of his latest work with the Amar Quartet in Vienna, enjoy many years of happy creativity in his tower." Gertrud and Paul lived in the tower until 1927, Paul's mother Sophie and sister Toni—who inhabited the lower floor — stayed until October 1943, when allied bombs destroyed the tower. In 1924, the newlyweds Gertrud and Paul settled down to a mutually comfortable and beneficial routine, with Gertrude wholeheartedly supporting Paul's musical career. She took care of all his professional correspondence and organized his numerous concert tours. And since they became practically inseparable, whenever humanly possible, they traveled together!