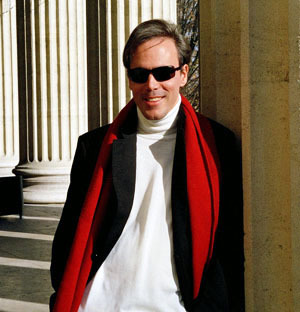 To be a successful concert artist is a major achievement. To accomplish this without being able to see, as Tamás Érdi does, shows what can happen when artistic giftedness, gutsy determination, and innovative teaching methods combine. The Budapest-born pianist, now in his 30s, is a truly gifted musician with a flourishing international career.


Born in 1979, Tamás began playing the piano at the age of five, and gave his first recital when he was eight. Unfortunately, Tamás lost his eyesight as a result of an oxygen overdose in a defective incubator. His piano instructors Erika Becht and Zsuzsa Kollár used "the structural method" for him, so that he could virtually "recompose" the music. This process has enabled Tamás to learn piano scores, including concertos, without the use of eyesight or sheet music.
In 1989, Tamás was accepted by the Music Academy in Vienna, and began classes with Imola Joó. By the age of 15, he played a Mozart piano concerto at the prestigious Budapest Spring Festival, and in the Hungarian Parliament under the baton of Tamás Vásáry. At 17, he won an international piano competition in Moscow.
Recognising the talent of Tamás, the internationally acclaimed concert pianist, professor and mentor Leon Fleisher offered Tamás a scholarship at the Toronto Royal Conservatory of Music. There Tamás spent four formative years, and opened a new chapter in his career. He completed his studies in both Vienna and Toronto, receiving an artists' diploma in piano.
Throughout the years, Tamás has given concerts in 23 countries, performed at Carnegie Hall and Lincoln Center, and worked with numerous orchestras such as the Budapest Philharmonic, Hungarian National Orchestra, Toronto Symphony Orchestra, and the Franz Liszt Chamber Orchestra. His recordings include two orchestral CDs (Mozart), three solo piano works (Schubert, Chopin, and Bartók-Liszt), and a DVD entitled "Tamás and friends from three continents", which features a live concert with his former classmates and friends at the Béla Bartók National Concert Hall of the Palace in Budapest.

Offcial website

Biography adapted from hungarianpresence.ca and tamaserdi.com.


Related videos:
Tamás Érdi – Liszt: Hungarian Rhapsody No. 6 in D-flat major

Tamás Érdi – Debussy: Clair de Lune

Tamás Érdi – Chopin: Nocturne No. 20 in C-sharp minor

Photo credit:
hungarianpresence.ca