Johannes Brahms: Rhapsody in B minor, Op. 79 No. 1
Brahms had arrived in Vienna in 1862 and taken a job as conductor of the Singakademie. To supplement his meager income, he was forced to take on piano students. And when Elisabeth's father asked him to take over his daughter's lessons, Brahms agreed. Yet after a very short time, Brahms handed Elisabeth back to Epstein on the pretext that her old teacher might be hurt and offended. There was much speculation as to the real reason, and it seemed reasonable to assume that Brahms had instantaneously fallen in love with his young and talented charge. As was customary with Brahms, emotional attraction inevitably resulted in hasty withdrawal, and he must have been much relieved when Elisabeth married Heinrich von Herzogenberg on 26 November 1868. And tellingly, Brahms established close contact with the couple only in 1874, developing a deep affection for Elisabeth and respect for her composer husband. Brahms clearly valued Elisabeth's musical insights, and sent her a number of his scores for analysis, among them his
4th Symphony
, and the
String Quintet
Op. 111.
Johannes Brahms: Rhapsody in G minor, Op. 79 No. 2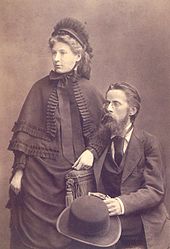 Elisabeth was normally full of praise for most of his work, "your music forms an integral part of our lives," she writes, "like the air and light and warmth." However, she was not uncritical and expressed her reservations in a manner that did not cause offence. "I have an unfortunate love of truth," she wrote, and when Brahms sent her a number of songs and choral pieces, she responded as follows. "I would not dare to say a word about what fills me with enthusiasm in these sets, if I were to remain silent about what fails to move me." Brahms, at any rate, held her in high esteems and wrote, "you should know and believe that you are among the few persons whom one holds so dear that one cannot tell them so." Apparently, Brahms had Elisabeth's photograph on his writing desk. One day, according to his housekeeper, Brahms had "given Elisabeth the empty frame and suggested that she put her own husband's portrait in it." Minor misunderstandings aside, there have never been any serious tensions between them.

When Elisabeth died on 7 January 1892 from heart disease, Brahms was devastated. He had come to rely on her musical judgment and criticism, and confided in her husband. "It is vain to attempt any expression of the feelings that absorb me so completely. You know how unutterably I myself suffer from the loss of your beloved wife, and can gauge accordingly my emotions in thinking of you, who were associated with her by the closest possible human ties. I preserve in them [Elisabeth's letters] above all one of the most precious memories of my life, and furthermore a rich treasure of feelings and wit, which, of course belongs to me alone." In 1880, Brahms had dedicated his Rhapsodies Op. 79 to Elisabeth, and after her death he arranged for the publication of her eight pieces for piano.

Elisabeth von Herzogenberg: Eight Klavierstücke, "Andante"

Elisabeth von Stockhausen was born in Paris in 1847. Her father served as the Hanoverian ambassador, and had been a student of Chopin. In 1853 the family moved to Vienna, and Elisabeth took lessons from Julius Epstein, at that time the principal pianist and teacher in Vienna. According to her teacher, "she had a wonderful memory, fluent natural technique, a delicate touch, a quick grasp of her subject and a true musician's temperament." Elisabeth was blonde and attractive, intensely musical, highly cultivated and endowed with great charm and a delightful sense of humor. Epstein later declared "one could not but fall in love with her." And Ethel Smyth, who later taught her in Leipzig, described her as "not really beautiful but better than beautiful, at once dazzling and bewitching." But there was somebody else who fell under Elisabeth's spell in Vienna, and his name was Johannes Brahms.