Beethoven's stylistic periods are often dated by his symphonies. However, for his violin sonata, their styles often advance before the symphony styles do. For example, His set of Violin Sonatas, Op. 30, shows many signs of the middle/late Beethoven but were actually written before he had written his second symphony, which is where he first started to make some of these changes to the symphonic repertoire: the Second is where he switched out the old-fashioned for the scherzo movement, which offered him larger scope. The scherzo and the finale of the Second are also filled with musical jokes, that the critics of the day took very badly.
His three opus 30 sonatas, dedicated to Alexander I, Tsar of Russia, were written in 1801–1802 in Vienna. It is written in solid sonata form, with a middle-movement minuet, but it's also a work where Beethoven started to play with syncopation, one of the many rhythmic gestures that he would make part of his repertoire.
One of the important questions about these Opus 30 works concerns who is the more important: are these works for violin or for piano with violin accompaniment, or both? In the opinion of Lars Vogt, the pianist on this recording, the piano part is as challenging as any of Beethoven's piano sonatas. Adding the violin only ratchets up the degree of difficulty for both players. And, in a unique way, Beethoven was really the first to make the two instruments equal. In examining Mozart's violin sonatas, the first ones are for piano with violin and his last works in the genre have changed the equation. As the violinist Christian Tetzlaff said about this work: '…participation in the playing process is almost fifty-fifty. The piano dribbles and runs a little more, but the ball possession is practically the same on the two sides'.
The sonata opens with a bit of drama in the figure shared by the two instruments before the violin takes the melody and extends it. A second theme in the unexpected key of D minor is transformed by the end of the Exposition section to be in the key of D major. The development second is very brief before returning to the opening figure in the recapitulation.
Ludwig van Beethoven: Violin Sonata No. 8 in G Major, Op. 30, No. 3, "Champagnersonate" – I. Allegro assai (Christian Tetzlaff, violin; Lars Vogt, piano)
Christian Tetzlaff (b. 1966), studied at the Musikhochschule Lübeck and at the University of Cincinnati – College-Conservatory of Music. His appearance, at age 22, with the Cleveland Orchestra performing Schoenberg's Violin Concerto in 1988 was his breakthrough. He made a number of recordings with pianist Lars Vogt, including three Mozart violin Sonatas, Schumann's violin sonatas, and this recording of Beethoven's Op. 30 sonatas.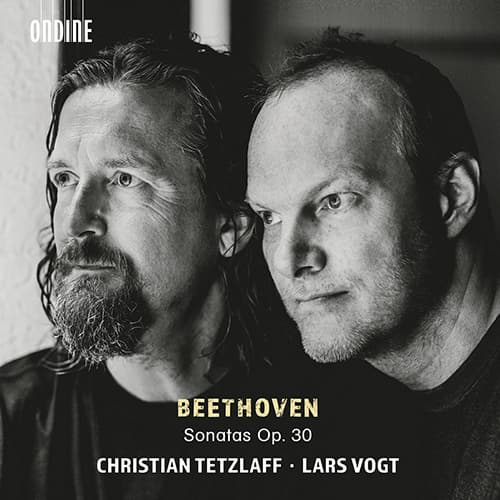 Ludwig van Beethoven: Violin Sonata No. 8 in G Major, Op. 30, No. 3, "Champagnersonate" – I. Allegro assai

Performed by

Christian Tetzlaff
Lars Vogt

Official Website
For more of the best in classical music, sign up for our E-Newsletter