I was in Paris for a few days to meet a very special friend, and managed to get a couple of tickets to Madame Butterfly at the Opera Bastille. I hadn't intended to write about this event, for the very simple reason that there was really nothing to write about. But the feelings of frustration overcame me and finally, I ended up with this article.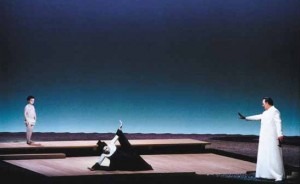 The last time I saw Madame Butterfly was in London, performed by the English National Opera (ENO) and directed by Anthony Minghella. The whole experience was like a fairytale; it was so spectacular and mesmerising that it changed my whole stance vis-à-vis opera, which has been quite different since. Even so, I went to this performance without any expectations, as it is hard to live up to Minghella. But considering that it was in Paris, it really shouldn't have been that bad.


To start with, there is nothing to say about the music. After all, Puccini will always be Puccini, and Butterfly always Butterfly. Although most of the score is quite simple and occasionally too dull for my taste, there is still a substantial number of splendid sections that deserve special attention. The Orchestre de l'Opera National de Paris is normally very good and of a decent standard, but unfortunately that day was not their day, and their delivery was very bland.

Robert Wilson, a highly regarded figure in the opera world, did a one-man show of directing, stage setting and light designing, all in one go. However, multitasking seemed to be too much for him as the stage was reduced to an arrangement of black and white cardboard and the lighting was just a projection of different colours on a neutral background. As for the directing, the whole cast (dressed in white and black again!) was moving like Kabuki dancers, only at a much slower pace.

About the cast (sigh), there is less than nothing to write. Micaela Carosi as Cio-Cio San was probably the best… starting from Act II. Throughout most of Act I, her voice sounded unprepared and off tune. However, I have learned to be a bit more lenient with age, because at the end of the day, artists are not machines – they do have their off days. Maybe she was tired or had a fight with her boyfriend, who knows. And we can forget about Pinkerton, a.k.a. James Valenti. I could hardly hear him unless the orchestra stopped playing.

What then, was the best part of Madame Butterfly? Probably the programme brochure, which was beautifully produced with several articles about Japan, extracts from Pierre Loti's writings, and lovely vintage photos.

So why am I writing this article? Well, to share what a waste of time and money it was, and the absurdity of showcasing a very average spectacle as "a major production on one of the most important operatic stages." I still recall the moment when Cio-Cio San and Suzuki both froze while the orchestra continued playing monotonously. My companion, a regular opera goer, looked at me with despair and whispered, "This is really long!" Oh, how I missed the other Madame Butterfly, the ENO production with Minghella. But I guess talent is hard to come by.

At the end of the opera, the public went berserk and nearly gave them a standing ovation. And as for all the praises I heard at the exit – well, did I miss something? Or is the Parisian audience becoming more ignorant and less demanding? Anyway, next time I should stay in and spend a quiet evening with friends, which is sure to be more rewarding and enjoyable.


Paris (3)

My short stay was, of course, all about dining, drinks, gatherings and outings.

There was too much to see and alas, too little time. I did, however, manage to visit the Modern Art Museum for a major Jean-Michel Basquiat retrospective and the Jeu de Paume for a stunning collection of André Kertész photos.

I was also treated to meals at a few Michelin-starred restaurants. Much like my feelings expressed above about the Shabby Butterfly, these experiences were disappointing. They were not only a waste of time and money, but also of calories. After all, you have to book weeks in advance to endure pompous and snobbish service, pore over a complicated menu which takes a quarter of a page to describe a roast chicken, not to mention the prices…

My experiences watching Madame Butterfly and dining at the Michelin eateries amounted to a kind of rip-off that left me with a bitter aftertaste. The sense of superiority exuded by a certain crowd in Paris makes them look ridiculous and I am pretty sure they will soon be out-performed by authentic talents.

Now for the positive part.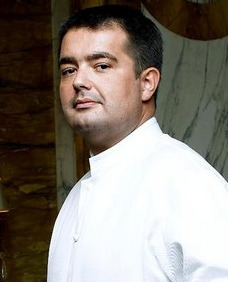 The first is Thoumieux. This new restaurant was opened by Jean-François Piège, the ex-chef of Les Ambassadeurs, who decided to go his own way and start all over again. This is a small and cosy restaurant that only seats 20, with a simple and short menu and reasonably priced fare. The open kitchen needs some improvement in ventilation, but makes the whole venue friendlier and the chef more accessible. This is a place I would definitely recommend, and it is also very comforting to see a new generation coming up with creative and simple ideas.

Another positive was a wonderful dinner in my friend's kitchen, where I had the best poutargue toasts I have ever tasted. Both the evening and the meal were wonderfully memorable. Unfortunately, he is not ready to open his own restaurant yet.

And there was that unforgettable afternoon when we listened to Haydn and Vanhal, and laughed at jokes about musicians while sipping Champagne Rosé… what more could I ask for?


Photo credits: theurbanman.com, julotzeblog.com