The lullaby, a gentle song intended for lulling young and/or ailing children to sleep originated in various folk repertories. It easily crossed into art music not only as a song but also as a short instrumental piece, frequently scored for piano solo. Usually referred to as a character piece, it was Frédéric Chopin's Berceuse Op. 57 that set the standard for instrumental lullabies in the 19th century. Composed in 1844, the origin is possibly linked to the baby daughter of his friend, the singer Pauline Viardot. George Sand writes in 1843, "Chopin adores [little Louise] and spends his time kissing her on the hands." Regarded as "a lyrical masterpiece, in which Chopin's compositional artistry is fully manifest," Chopin originally had planned to call the work "Variantes." Based on a simple theme supported by a rocking accompaniment, the Berceuse unfolds as a series of sixteen melodic variations excessively adorned with filigree ornaments. And since it is a true lullaby, it never rises above the pianissimo dynamic.

Frédéric Chopin: Berceuse Op. 57
In the world of musical gamesmanship, anything Chopin could do, Liszt could do better! His first
Berceuse
originated in a collection to honor the marriage of the Austrian empress Elisabeth in 1854. Liszt writes, "The thing ought properly to be played in an American rocking-chair…so that the player may, willy-nilly, give himself up to a dreamy condition, rocked by the regular movement of the chair rhythm." Highly meditative and peaceful, this Berceuse forgoes almost all sense of virtuosity. That's not the case in Liszt's second
Berceuse
version, fashioned in 1862. "Weariness or something of the sort carried my thoughts back to my Berceuse," Liszt wrote. "Various other Berceuses rose up in my dreams. Do you care to join my dreams? It shall not cost you any trouble; without touching the keyboard yourself, you will only need to rock yourself in the sentiments that hover over them." A veritable daydream, the slow and lengthy introduction is simply going nowhere. The "Berceuse" from his symphonic poem
Von der Wiege bis zum Grabe
(From the cradle to the grave) of 1881/82 was originally written for piano solo, and already sounds the austerity of his late compositional style.
Franz Liszt: Berceuse Versions
To celebrate the 77th birthday of Gabriel Fauré in 1922,
La Revue Musicale
published a special commemorative issue. Maurice Ravel, alongside a number of other composers, was asked to compose a piece of music to accompany the tribute. Although Ravel was experiencing emotional and creative difficulties at that time, he nevertheless managed to complete his
Berceuse sur le nom de Gabriel Fauré
. The theme is derived by adapting the "musical letters" of Fauré's name and placing them into a continuous sequence. Scored for violin and piano, this sequence of pitches is easily recognizable throughout.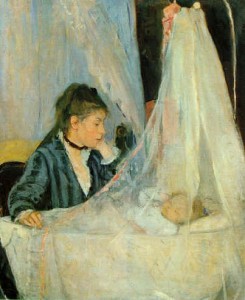 In the event, Fauré was touched by Ravel's homage and wrote to him, "I am thinking of your growth, dear friend, and I am happier than you can imagine about the solid position which you occupy and which you have acquired so brilliantly and so rapidly. It is a source of joy and pride for your old professor…" Specifically written to honor his teacher, this gentle lullaby also celebrated the birth of Claude Roland-Manuel Dreyfus, to whom the piece is dedicated.
Maurice Ravel: Berceuse sur le nom de Gabriel Fauré
In May 1909, Ferrucio Busoni's father died after an extended illness, and only five months later, his mother also passed away. Busoni described the loss of his parents as "the most profound event in my life." To commemorate the memory of his parents he composed the
Fantasia after J.S. Bach
and the
Berceuse élégiaque
, respectively. The
Berceuse
was completed as a piano piece in October 1909, but over the next couple of years Busoni crafted an orchestral version subtitled "Des Mannes Wiegenlied am Sarge seiner Mutter" (The man's cradle song at the his mother's coffin). The composer called it a landmark composition, as it created for the first time "an individual sound world that succeeded in dissolving form into feeling." It's harmonic richness and emotional intensity was noted by Arnold Schoenberg who wrote after hearing the work on 20 January 1912, "Until now I had not liked Busoni's work. But yesterday I liked the 'Berceuse.' Downright moving piece. Deeply felt. I have been most unjust to him."
Ferruccio Busoni: Berceuse élégiaque