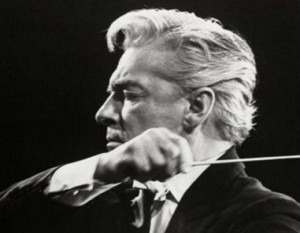 I am naturally attracted to works by the "B-composers"- J.S. Bach, Beethoven, Brahms, Bartok, Barber, Britten- each having their unique musical character and captivating power. When I first heard about the idea of bringing a concert of Beethoven 7 & 9 conducted by Karajan to cinemas, I was both skeptical and excited. As a regular concert-goer, my skepticism is drawn from the deep-rooted habit of locating symphonies only in concert halls; yet my youth nature makes me unable to resist new ideas and concepts.
Upon entrance, the ambience reminded me of European opera houses in the sixteenth centuries- well not as chaotic as then, but I did notice the absolute freedom on food consumption and punctuality. Indeed, I was rather amazed by the usual movie etiquette in this quasi-concert experience.

I prefer the audio quality of Karajan conducting Berliner Philharmoniker on Beethoven's Symphony No. 9 recorded inside a concert hall, as the acoustics makes a notable distinction from Beethoven 7 (which is probably recorded in a studio). Despite the incomparable audio quality to a live concert hall experience, Unitel's effort in presenting maestros from past centuries to present ears is worth encouraging. Bringing classic performances of classical music into modern cinemas might seem to be inappropriate to some traditionalists, yet I believe it is nothing helpful to just sit there in self-superiority and complain on the dwindling young classical music lovers. After all, formal concerts will still remain in practice with its irreplaceable function.
Classical in Cinema: Beethoven by Karajan
Date: 2011/2/13
Venue: House 5, AMC Festival Walk
Presenter(s): UNITEL, CLASSICA
Artist(s): (1971) Herbert von Karajan, Berliner Philharmoniker
(1968) Gundula Janowitz, Christa Ludwig, Jess Thomas, Walter Berry, Deutsche Oper Berlin, Herbert von Karajan, Berliner Philharmoniker
Programme:
Symphony No. 7 in A major, Op. 92 (1971)
Symphony No. 9 in D minor, Op. 125 "Choral" (1968)
Photo credit: unitel.de