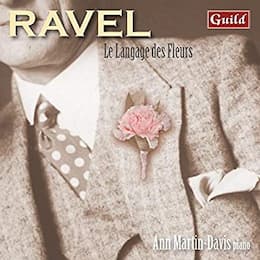 Maurice Ravel has been an enduring part of British pianist Ann Martin-Davis' musical life and in the liner notes to her new collection of his piano music, she relates an anecdote which gave her a particularly special connection to the composer. Having played the middle movement of Ravel's Sonatine to the renowned pianist and teacher Phyllis Sellick (1911-2007), who was adjudicating a competition, Ann became Sellick's "newest (and smallest) recruit". Sellick revealed that she too had played the very same movement to the composer himself (introduced to him in Paris through her own teacher, Isidore Philipp), who had remarked that it was "pas mal" ("not bad"). When Ann asked her teacher what Ravel was like, Sellick replied that he was "all pointy – pointy hair, pointy nose, pointy clothes".
Ravel had a reputation for meticulous dress and reserved social manner. The image on the cover of the CD liner notes shows Ravel in an elegantly-cut tweed suit with a single carnation in his button hole, and this perhaps hints at the musical personality too: colourful, sensuous and flamboyant, but also intimate and tender.
Ann Martin-Davis' new disc of Ravel's piano music includes the much-loved Pavane pour une infante défunte, Sonatine, Tombeau de Couperin and a selection of the Valses Nobles et Sentimentales, as well as shorter piano works and miniatures. As part of her research for the recording, Ann read (and recommends) Professor Michael Puri's groundbreaking book 'Ravel the Decadent', which places Ravel's music in the context of the late nineteenth-century cultural and artistic phenomenon of Decadence, rather than that of the Neo-Classical or Symbolist labels more normally applied to his music.
Ravel: Valses nobles et sentimentales (version for piano) – IV. Assez anime (Ann Martin-Davis, piano)

This is certainly confirmed in Ann's approach to the music. While there's a fin de siècle poignancy and intimacy to the Valses Nobles et Sentimentales, elegance is tempered by playfulness and a hip-swinging sensuousness to the waltz rhythms, suggesting hidden pleasures. This is music redolent of the scent of Gauloises, Pastis, cologne, and the heavy heat of the Med in high summer. Ann's supple tempi and pitch-perfect rubato are balanced by crisp articulation and a lovely translucence of tone.
This is even more evident in the Tombeau de Couperin, Ravel's hommage to the keyboard suites of the great French clavecinistes Couperin and Rameau, and also a dedication to friends of the composer who died during the First World War. A bright, direct sound brings immediacy and drama while also highlighting the Baroque structures of this music. But it is not without emotion – far from it, in fact, especially in the Menuet, which is wistful and tender. The final movement Toccata, by contrast, sparkles with vigour, Ann's airy, fleet-fingered touch bringing its figurations to life with vivid colour and imagination.
Ravel: Le tombeau de Couperin (version for piano) – No. 5. Menuet (Ann Martin-Davis, piano)

The music on this disc represents about half of Ravel's output for the piano, and the smaller works, such as À la manière de Borodine and the Menuet sur le nom de Haydn, sit well with the longer suites. The selection closes with the much-loved Sonatine, utterly beguiling in its delicacy and simplicity, and impeccably and imaginatively interpreted.
If you, like me, were not able to get to the south of France on holiday this year (my holiday, like so many others, had to be cancelled due to coronavirus), this disc is a delightful evocation of the scents, sounds and ambiance of that part of France.