Joly Braga Santos (1924-1988) brought Portugal into the full orchestral world of the 20th century. A student of Luís de Freitas Branco, he used his teacher's symphonies as the springboard for his own orchestral explorations. As he looked at modern symphonic techniques, he quickly discarded the multi-movement symphony for the more compressed form of the symphonic overture.
A symphonic overture is an overture without the following work, such as the difference between Mozart's Overture to Die Zauberflöte and Tchaikovsky's 1812 Overture. The drama in Mozart's overture is tied to the arias of the following opera, whereas Tchaikovsky's drama is tied to the musical story he created to show the defeat of Napoleon's French troops at the very walls of Moscow. And so Braga Santos began his experiments with the modern symphonic overture.
In Braga Santo's second symphonic overture, he took his native city of Lisbon (Lisboa) as its subject.
The work opens with a slow introduction, with a theme in the horn that becomes the core of the following Allegro section. Suddenly, the rest of the orchestra enters with a sprightly melody that drives the story forward. We can quickly hear Braga Santos' ability to write music that tells ever-changing stories: lyrical or driving, active or pensive – yet always built around the first musical 'cell' we heard in the horn. His play with orchestral sound, choosing single instruments to make statements – a solo flute, a horn – with background commentary in the percussion, shows his skill in weaving the orchestral fabric.
Braga Santos: Symphonic Overture No. 2, Op. 8, "Lisboa" (Royal Liverpool Philharmonic Orchestra; Álvaro Cassuto, cond.)
The work received its premiere in 1947 in Lisbon with the National Radio Symphony Orchestra, conducted by the leading Portuguese conductor of the day, Pedro de Freitas Branco, brother of Braga Santos' teacher, Luís de Freitas Branco.
This recording, made in 2018 by Álvaro Cassuto, brings out works by Braga Santos that with hitherto unrecorded. Cassuto, who had known Braga Santos since the late 1950s, finds this work to be key to the composer's work in his first period.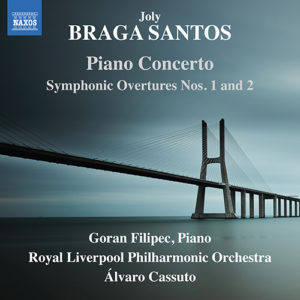 Braga Santos: Symphonic Overture No. 2, Op. 8, "Lisboa"

Performed by
Royal Liverpool Philharmonic Orchestra
Álvaro Cassuto

Official Website