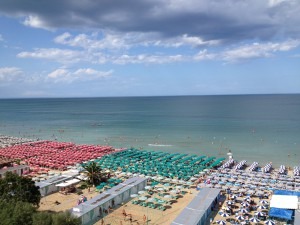 A tacky Italian beach resort in the heat of the summer holiday and a moderately quaint old town with a strong operatic tradition make an odd contrast. Yet Gioachino Rossini's hometown, Pesaro on the Adriatic, hosts a longstanding opera festival entirely dedicated to Rossini, just a few minutes walk from a hopelessly overcrowded beach.

Nothing like the chic and well funded Salzburg Festspiele, Pesaro's Rossini Opera Festival is a decidedly middle class affair for hard-core Rossini lovers from Italy, with strong representation from Germany, Switzerland and Japan. It is also THE social event of the year in Pesaro, manifested by the well-turned out locals, and the municipality's enthusiasm to wheel out their finest carabinieri in full parade uniform, as well as two mounted police officers whose arrival proves a major attraction in the town square.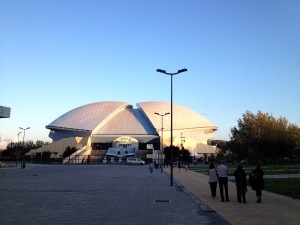 The festival has a refreshingly informal feel, yet it takes Rossini extremely seriously, and produces top-notch performances of often critically re-edited work of the Pesarese composer, drawing on the extensive research of the Fondazione Rossini and its scores of academics.

La Gazza Ladra: Ouverture
This year's headliner was La Gazza Ladra (The Thieving Magpie), a revival of a 2007 joint production with the Arena di Verona. It has gained few supporters since its first showing. The set relies on about a dozen white pipes that are repurposed as a forest, cannons, a country inn and a jail. That part sort of works. What doesn't work is when they flood the stage for no apparent reason, and the performers spend the entire second act sloshing and slipping through nearly ankle deep water.

Nino Machaidze – "No, mia vita, mio tesoro…" (Il Turco in Italia, Rossini)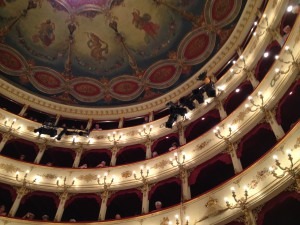 Pesaro scored a coup by engaging top Georgian soprano Nino Machaidze (a Salzburg stand-in for Anna Netrebko) in the lead role of Ninetta. She brought star quality, an arrestingly beautiful voice, stage magnetism and the requisite vocal flexibility. She was appreciated, but not celebrated, by the local audience who are more attuned to the smaller and agile bel canto voices than the larger and richer timbre of a verismo style soprano. The Pesarese got more excited by festival regular Alex Esposito whose nimble baritone and dramatic intensity delighted the audience as Ninetta's father. Smaller roles were well cast, notably with Marko Mimika as the dastardly bailiff Podesta, who has Ninetta condemned to death (yes, that's right) over the apparent theft of some silverware from the innkeepers who employ her. The innkeeper's wife was sung by Teresa Iervolino, an exciting young mezzo. Ninetta escapes death when a magpie is revealed as the true culprit. The bird, a silent role, was portrayed by a dancer on a trapeze who flies through or prances in to wreak havoc.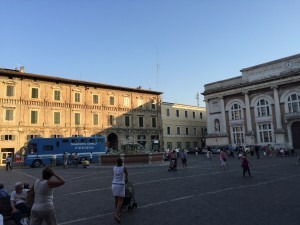 La Gazza was performed in the Adriatic Arena, a shockingly unattractive spaceship-like stadium in the strip mall outskirts of Pesaro. Yet they somehow pull it off, transforming the cavernous sports ground with acoustic boards and dividers to create an unexpectedly comfortable and effective space.

La Gazzetta: Sinfonia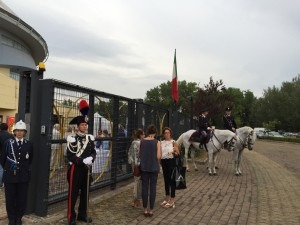 La Gazzetta, a comic opera from Rossini's Neapolitan period, was offered in the more traditional Teatro Rossini in the centre of town, and was a more typical representation of what Pesaro stands for: rarely performed opera presented on low-budget stage sets with young and less known (unless to hardcore bel canto fans) singers of top-notch quality. The Orchestra of the Teatro Communale di Bologna under Enrique Mazzola enthusiastically attacked the score, from the opera's famous overture (which was redeployed by Rossini for La Cenerentola a year later). The comic lead, Dom Pomponio, was played in traditional Neapolitan dialect by the hilarious Nicola Alaimo, who was accompanied throughout by his sidekick Tommasino (the magnificently talented actor Ernesto Lama). His efforts to marry off his daughter Lisetta by placing ads in newspapers ("gazzettas") is both musically and dramatically exciting. As Lisetta, Hasmik Torosyan displayed a rich and flexible voice as well as comedic talent, as did Rafaella Lupinacci playing her friend Doralice. Maxim Mironov as romantic hero Alberto boasted not only an amazingly elastic and robust bel canto tenor (of exactly the type the Pesarese delight in), but surprising stage presence for a nearly waif-like singer.

L'Inganno Felice: Sinfonia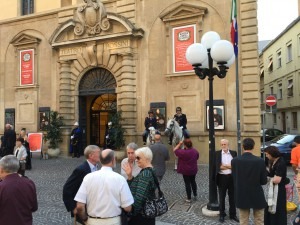 L'Inganno Felice (The Fortunate Deception), a rarely performed and short farse, was less successful. In spite of an attractive and hugely detailed stage set and clever direction (the revived Graham Vick and Richard Hudson production dating back to 1994), the performers struggled to meet the demands of the score and the possibilities provided by the set. The story's heroine Isabella, who incredibly survives ten years as a cast-away on an island, coincidentally meets her former husband and his treacherous friend who had caused her to be expelled. Mariangela Sicilia (an Operalia prize-winner) deserves credit for keeping the show together and was ably assisted by Davide Luciano (as the henchman Batone) who masterfully deployed his baritone in the complicated embellishments. The performance was undermined by miscast tenor Vassilis Kavayas who was neither vocally nor dramatically up to the role. The small Orchestra Sinfonica G. Rossini helped make the evening musically enjoyable, but absent supertitles made the strange plot hard to follow.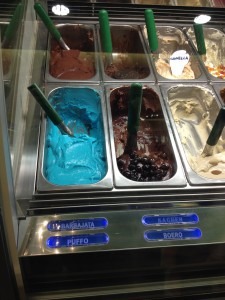 Filling the days in Pesaro is easy, even when completely avoiding the beach. The Festival offers countless other Rossini performances by established and beginning musicians, in addition to book launches, exhibits and academic symposia. And then there's the food, another Rossini speciality.

Performances attended: La Gazza Ladra (10 August 2015), La Gazzetta (11 August), L'Inganno Felice (12 August)

Official Website