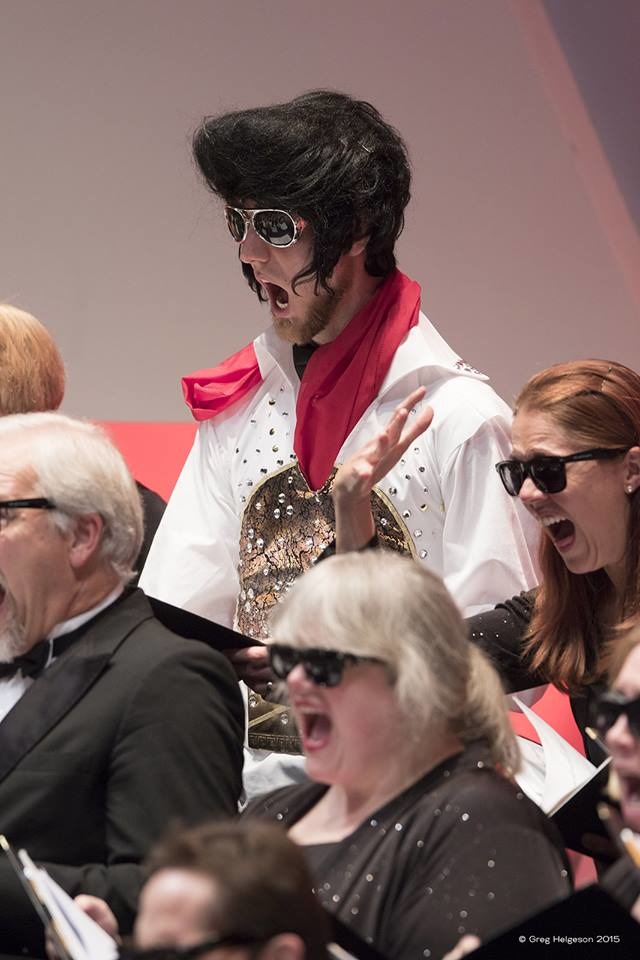 Handsome, longhaired composer and conductor Eric Whitacre instructed the audience, "Turn your phone on. Put it in airplane mode and wait for my cue." Throughout the Orchestra Hall lobby were instructions regarding how to download the Deep Fields app prior to the concert.

Famous for his virtual choir performances that have had millions of hits, Whitacre's music stretches the boundaries of a typical concert experience, and was it ever fun.

Whitacre Lux Aurumque
The second half of the recent Minnesota Orchestra concert began with Godzilla Eats Las Vegas! Whitacre writes, (Robert Markow for the Minnesota Orchestra Showcase magazine), "I thought it would be a blast to do something completely ridiculous." And it was. The performers scream in terror, and sigh in horror. The huge chorus rock back and forth to simulate marching. Someone dressed like Elvis appears in the back row onstage. The audience could not contain their mirth.

Later in the work cannonballs are fired at the dancing monster Godzilla. Thinking that he is annihilated the chorus begin to hug each other with elation, unpredictably breaking ranks on stage. But he lives! Dark ominous sounds emerge and the terror rears its ugly head once again.


The orchestra is called upon to play in styles that include the tango, mambo, and excerpts from the music of legends Frank Sinatra, Liberace, Gershwin, and Tchaikovsky. The program had a theater-like script of "stage-directions" for the audience to follow the "action" onstage. A symphony orchestra concert uproariously funny? Yes. Everyone loved it.
Deep Field
followed, Whitacre's creation after seeing the glittering sparkling "spectacularly beautiful images the Hubble telescope produced when astronomers pointed it at an infinitesimally tiny area of the sky (1/24-millionth of the sky field where no earth-bound telescope had registered anything before.) The piece begins very quietly with upper strings and gradually the other strings join. Haunting solos enter from the harp and flute, then oboe. The brass joins and the piece blossoms majestically. We in the audience were poised, patiently waiting to click our phones on cue.
Approximately four minutes from the end of the piece, Whitacre turned to us and gestured. We all pressed the play button on the app on our phones. Slowly the stunning image of the galaxy appeared. I wonder how many of the audience realized that there was music emanating from the phone as well—uncanny sounds and sonorities that blended with the music onstage harmoniously, perfectly in tune and synced. The work ends, like Gustav Holst's
The Planets
, deliberately I think—the chorus fanned out in the audience, sweetly undulating between two notes, and fading into silence. It was mesmerizing. We shared Whitacre's awe and wonder drawn in by the compelling experience.
For me, a long-time orchestra member, it was inspiring to be among an audience that included a huge group of young people and to feel their palpable and vocal excitement.
Whitacre Fly to Paradise
Whitacre's experiments in composition include his virtual choirs such as Fly to Paradise— 8,409 videos from 5,905 singers from 101 countries. On the program that evening was the world premiere of the full-orchestra version of Lux Aurumque a work that similarly was for virtual choir a cappella and features 2,052 voices from twelve countries, with the text—"Light, warm and heavy as pure gold, and angels sing softly to the new-born babe," by the English poet Edward Esch. Whitacre's music is harmonious, soothing, ethereal.

Copland Quiet City
Also featured was a new work Ecstatic Waters by Steven Bryant, Aaron Copland's Quiet City, and Minnesota composer Stephen Paulus's Pilgrim's Hymn, from The Three Hermits for a cappella chorus, a setting of a text by Michael Dennis Browne, one of his most eloquent and frequently performed works including at the funerals of presidents Gerald Ford and Ronal Reagan. Paulus tragically passed away last year.

Mormon Tabernacle Choir
Steven Paulus Pilgrim's Hymn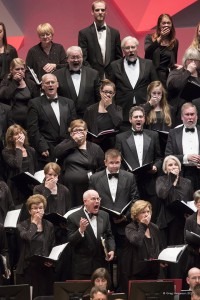 The program offered something for everyone. Not that there weren't any glitches. Whitacre patiently stopped to explain during three false starts of Deep Field— heard by everyone listening on the live radio broadcast. First someone onstage forgot to put his phone on airplane mode and we heard a text come in. The orchestra member shrugged, "Mia Culpa." Everyone laughed. Then an over–eager audience member pushed their app button too soon. Whitacre turned again to the audience and told us to wait for our cue. The third time was the charm and the first performance of the world premier went smoothly. Deep Field will be repeated this summer at the Proms in London.

The discussion and concern about attracting audiences especially young people to the concert hall were dispelled for me that evening. The reaction in the hall and subsequent huge line of twenty-somethings waiting to meet Eric Whitacre was heartening.

Innovation and experimentation is essential. Although orchestras will always be the bastions of the great composers of symphonic music, reaching out to embrace current trends, blurring the lines between peoples, cultures, traditions, and approaches is all good. Isn't this what all concerts should aspire to?

Program Notes