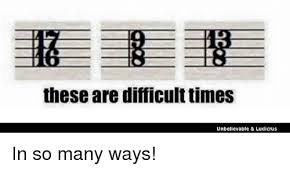 Musicians are very creative people. So creative, that when we get bored backstage, when we are waiting on tour for a bus or plane, when we pause while a conductor decides if he or she wants it louder or softer, or faster or slower, we come up with games to amuse us. And since these are difficult times (groan), we all need some laughs right now.
Recently, one of my colleagues challenged us with the following:
Change something about a composer—his or her occupation, or predilections, and retitle their composition. Here are some of the most amusing (and for non-aficionados see the original titles with some background at the bottom of the article!)
a) If Wagner had been a struggling laundromat owner who just wanted to write music he'd have written The Wring Cycle.
b) Nikolai Rimsky-Korsakov might've been a wonderful cook and written Carpaccio Espagnole.
c) And if he'd been Jewish he'd have written the Russian Pesach (Passover) Festival Overture
d) If J.S. Bach had bi-polar disorder he'd have written The Lost Temper Clavier.
Bach: The Well-Tempered Clavier, Book 1, Prelude and Fugue No. 1 in C Major, BWV 846 (Jörg Demus, piano)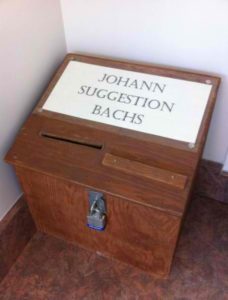 e) If as a child Bach was thinking about a suitable profession, he'd have pondered during Mass, to B a miner, or B a major. A 'Johann Suggestion Bachs' might've come in handy.
f) If Richard Strauss were a car salesman, he'd have entitled his composition Der Chevy Cavalier. (He enjoyed his cars.)
g) If Franz Schubert had been a Star Wars fanatic he'd have called his string quartet Darth and the Maiden.
Schubert: String Quartet No. 14 in D Minor, D. 810, "Death and the Maiden" – IV. Presto (Tokyo Quartet)

h) Smetana is a type of sour cream from central and Eastern Europe. It's a dairy product produced by souring heavy cream and is similar to crème fraiche so Bedřich Smetana could very well have been a chef, enamored of food, and written The Buttered Bride. Sometimes, if he soured too much, the main course could become Die Mouldy.
i) Or Smetana might've been an odious misogynist and written The Battered Broad.
j) Carl Nielsen with a stomachache might have written The Indigestible Symphony. Or if all of his symphonies sounded the same (which some people think) The Indistinguishable Symphony.
k) If Felix Mendelssohn had been a rap artist he might have written Words Without Songs.
l) Aaron Copland must have had caught a virus, and hence he wrote Fanfare for the Common Cold.
m) He might've become a fisherman and then would have written Billy the SQUID.
n) And perhaps Joseph Haydn missed his calling as an undertaker. He would have written The Cremation.
o) If only Charles Ives could have had Internet. He'd have written The Answered Question.
p) Had Gustav Holst been a royal follower and fanatic, he'd have written The Plantagenets.
q) Picture Olivier Messiaen as a primatologist. He'd have written Orangutangalila Symphony.
Messiaen: Turangalila-symphonie – I. Introduction

r) If Franz Schubert was moving and someone stole the truck with his possessions he'd have written the Unfurnished Symphony.
s) If Maurice Ravel was a Spanish Loyalist (named Mauricio) he'd have written his Thankfully Espagnole.
We of course don't mean to be irreverent. Some of these works are among our favorites and I believe yours too. Even if we look very dignified onstage in our long black playing the greatest masterpieces every created, we musician like to have a little fun. If you think you can top these let's hear them!
a) Wagner, Der Ring des Nibelungen, known as The Ring Cycle – four long operas connected by theme running approximately 17 hours.
b) Rimsky-Korsakov, Capriccio Espagnole
c)Rimsky-Korsakov, Russian Easter Festival Overture
d) J.S Bach, The Well-Tempered Clavier is a collection of two sets of preludes and fugues in all 24 major and minor keys for solo keyboard.
e) J.S. Bach, B Minor Mass
f) Strauss, Suite from the opera Der Rosenkavalier
g) Schubert, Death and the Maiden, String Quartet No. 14 in D minor
h) Smetana, The Overture from The Bartered Bride, a comic opera in three acts, and Die Moldau from Ma Vlast, meaning my homeland, is set of six symphonic poems.
i) Smetana, The Overture from The Bartered Bride
j) Nielsen, The Inextinguishable Symphony, No. 4 of his six symphonies, written against the backdrop of World War I.
k) Mendelssohn, Songs Without Words, written for solo piano
l) Copland, Fanfare for the Common Man
m) Copland, Billy the Kid, a cowboy ballet
n) Haydn, The Creation, an oratorio depicting the creation of the world.
o) Ives, The Unanswered Question
p) Holst, The Planets is a seven-movement orchestral piece depicting the solar system.
q) Messiaen, Turangalila-Symphonie is a massive work in 10 movements and calls for every type of musical instrument. Composed in 1947-48 the title is from two Sanskrit words turanga and lîla meaning: a love song and hymn of joy; rhythm, time, movement, and death.
r) Schubert, The Unfinished Symphony, his eighth symphony, comprises only two movements
s) Ravel, Rapsodie Espagnole