'We're all on the same side'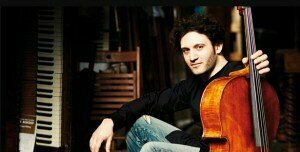 German-French cellist Nicolas Altstaedt plays Dutilleux's Tout un monde lointain with the Hong Kong Sinfonietta on 1 December. It's not his first visit to Hong Kong – he was in Hong Kong previously for the 2011 Arts Festival – but is looking forward to coming back, not least because his visit affords him to spend some time exploring away from the concert platform.

'I try to see things when I travel', he explains, 'because I think it's a big privilege to be able to travel everywhere. I really want to see things. Sometimes it's absolutely impossible, but when there's a day free I try to connect to the place. Often I can only do one or two days but I try to see as much as possible – I believe it's very important.'

Nicolas is becoming more in demand as a conductor as well as a cellist, something that he was thrown into around 5 years ago when Adam Fisher asked him to be his successor of the Haydn Philharmonie he had founded in 1987.


'I was always interested in symphonic music and when I was a kid I was always reading scores and listening to recordings. It's something I'd always done,' says Nicolas, relishing the opportunity to add this dimension to his career, as well as using it to feed back into his work on the cello.
'[Conducting] helps a lot. You do a lot of work away from the instrument. When you play the cello repertoire, you're a perfectionist and you're always practising. When you play pieces you've played lots of times, the biggest urgency is to play them as well as possible, so you practise them more. When you conduct, you do all that work without the instrument, and that is extremely healthy. As a conductor you really want to tell everyone what they are playing and how to phrase, so you spend lots of time getting into the harmonic structure, the architecture of the piece.'
'It's very enriching; you discover a lot of things when you do these things for the first time. It's learning by doing; you analyse a movement by Beethoven, by Schubert, by Haydn, you see what they're doing, how they're doing it. You see how unpredictable they were, how new they were in every piece, how they always invented something, how nothing ever repeated. It's very rewarding.'
After rising to prominence by winning the
Credit Suisse Young Artist Award
in 2010, Nicolas has played with orchestras worldwide including the Vienna Philharmonic, Czech Philharmonic, Tonhalle Orchestra Zurich, Melbourne and New Zealand Symphony Orchestras, and Vienna Symphony Orchestra, in addition to his frequent conducting engagements.
Haydn: Cello Concerto No. 1
Speaking of the parallels and differences with conducting and playing, Nicolas says, 'The fascinating thing with conducting is that with the cello I've played a lot of pieces already, and they grow with you. For me it's very exciting to [conduct] things for the first time. I'm very aware that everything I do is subjective and that you develop your interpretation with experience, and it takes time to learn from your mistakes and see how it works with certain groups and certain acoustics, but with conducting it's fascinating because it's so different every time.


'A different group of people react differently and then you wonder how much comes from them, how much comes from you, but it's amazing to find something together, and to know next time it's going to be completely different.'
In addition to his conducting work, Nicolas broadens his horizons by absorbing as much as possible from other disciplines. The last time he visited London, for example, a friend introduced him to the choreography of modern dancers Wayne McGregor, Akram Khan, and William Forsythe.
'For me it's very important to get to know other things apart from music, to see how other people work, to see what they try to create, because I believe we're all on the same side', says Nicolas.
'It doesn't matter if we move with our body or paint with a brush or play an instrument, we all try to create something and find a certain truth, and then it's very refreshing to see it done not by musicians.'
Schumann: Cello Concerto