Las 4 Estaciones Portenas (The 4 Seasons of Buenos Aires)
(arr. L. Desyatnikov for violin and strings)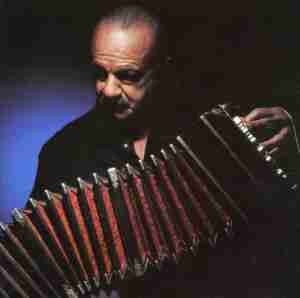 I have long had a love affair with Astor Piazzolla's music. Several years ago I heard the wonderful recording of Le Grand Tango for cello and piano performed by Yo Yo Ma. Written in 1982 and dedicated to Russian cellist, Mistislav Rostropovitch it was premiered by him in 1990 in New Orleans.


I was transported by the piece and I couldn't wait to get my hands on the music to play it myself. I fell in love with the driving syncopated rhythms and the beautiful melodies, perfect for the soulful voice of the cello and The tango rhythm is simply an 8/8 common time signature, but it is transformed when it is grouped in three accented groups 3/3/2. It becomes passionate, unrelenting, unrestrained and the ending of Le Grand Tango leaves both the audience and the performers breathless.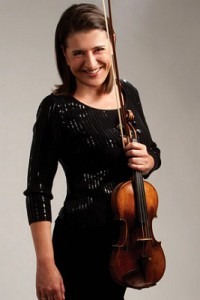 The tango was originally an Argentinian street dance originating in Buenos Aires and Uruguay. Society considered the dance quite scandalous. The steamy close embraces and the dramatic, sexy rhythmic footwork were frowned upon, that is, until the dance crossed the oceans to the salons of Paris. There it became a rage. When the tango returned to Argentina it became the most popular social dance.

Piazzolla was a formidable bandoneón virtuoso. Unlike the accordion, where there is an actual keyboard to play, playing the bandoneón involves pushing in or pulling out the instrument while the fingers press buttons on either side more like the concertina. The notes produced are different when the instrument is open or closed, and the right and left hand have different keyboards. It boggles the mind that there are four keyboard configurations to learn. The bandoneón has an entirely unique sound.

During his younger years, Piazzolla tried to absorb all kinds of music. He studied with some the best teachers of the time. In 1933 he studied with the Hungarian pianist Bela Wilda, a disciple of Rachmaninoff with whom Astor " learned to love Bach".

In 1939, he joined one of the greatest tango orchestras of Argentina, the Anibal Troilo orchestra. Their bandoneón player Pichuco became one of Piazzolla's masters. Piazzolla also studied with the great composers Alberto Ginastera, and Nadja Boulanger in Paris. Piazzolla immersed himself in the study of Bartok, Stravinsky and jazz.

At the time, Piazzolla actually attempted to hide his tanguero past and his bandoneón playing. Classical music inspired him. But after he performed his tango Triunfal for Ms. Boulanger she said "Astor, your classical pieces are well written, but the true Piazzolla is here, never leave it behind." These words affected him for the rest of his career.

When he returned to Argentina, Piazzolla formed his first quintet – bandoneón, violin, bass, piano, and electric guitar. This formation would become his trademark. His popularity began to soar. At over 1000 works, Piazzolla's output was enormous. His distinctive and unique music with Argentinian flair continues to influence the best musicians in the world.

Recently, Nadja Salerno-Sonnenberg nearly lit Minneapolis' Orchestra Hall on fire with her rendition of Astor Piazzolla's The Four Seasons in Buenos Aires. Nadja and Astor – What a combination! Each tango depicts a different season in the city, much like its counterpart, the Vivaldi Four Seasons.

Performing Leonid Desyatnikov's arrangement for solo violin and string orchestra, Nadja was electrifying, mesmerizing and on the edge. The sheer physicality of the performances held us spellbound. She pushed herself and the violin to the limit, even at times viscerally stamping her foot. The work has awesome technical demands and distinctive sounds. Piazzolla invents new techniques such as playing on the other side of the bridge, resulting in a scratchy percussive sound. He paints evocative instrumental colors using fanciful glissandos (sliding on the violin string) and whistlelike harmonics.

Offstage, Nadja is sociable, voluble, casual but no less aggressive in her perfectionism and her vision regarding the work she is to perform.

Audiences may not realize that orchestras have inside jokes. Perhaps something humorous happens in the rehearsal and we may repeat it or exaggerate it during the concert. At a previous appearance with the Minnesota Orchestra, during a short bar of rest in a concerto, Nadja grabbed her violin by the neck and twirled it several times mid-air. After that day, in her honor, sometimes a whole section of string players will spin their instruments. It's quite a sight to see an entire cello section twirl their cellos.

Three years ago Nadja Solerno-Sonnenberg became the Music Director of the New Century Chamber Orchestra. In November the ensemble made their New York Debut. Their trademark piece of course is the Piazzolla Four Seasons. In the November 20th, 2011, New York Times, reviewer James R. Oestreich writes that Nadja is known for "flaunting a certain brashness" but he compliments her on her "consummate skill and panache." Be sure to pick up a copy of New Century's recording Together. It's hot!


Together: Nadja Salerno-Sonnenberg & The New Century Chamber Orchestra

Nadja Salerno Sonnenberg with the Atlanta Symphony Orchestra
The Four Seasons of Buenos Aires
Yoyo Ma – Piazzolla : Libertango
Adios Nonino : Astor Piazzolla
Photo 1: http://redpandoramusica.blogspot.com/2008/07/astor-piazzola.html
Photo 2: http://blog.feinviolins.com/2012/01/nadja-salerno-sonnenberg.html