William Byrd (c. 1540–1623), although a Catholic in Protestant England under Elizabeth I, made his career as the greatest English composer of his era. Although his early studies are not fully known, it is believed that he studied in London with Thomas Tallis. In 1563, he was Organist and Master of the Choristers at Lincoln Cathedral and by 1570, he was in London, serving with Tallis as an organist and member of the Gentleman of the Chapel Royal by 1572.
Tallis and Byrd were awarded exclusive permission from the crown to publish music (and music paper) starting in 1575. This meant that his own music could be published more easily. Between 1588 and 1593, Byrd made anthologies of his music but didn't necessarily publish them. One of the greatest of these was made in 1591 and is in the British Library (MS Mus. 1591) as My Ladye Nevells Booke. 'Lady Nevell' was Elizabeth, wife of Sir Henry Nevill or Nevell of Billingbere in Berkshire. The manuscript was in the hands of the Nevell family until at least 1699. It was reacquired by the Nevill family in the mid-19th century, and they held it until 2006, whereupon it was accepted by the British government in lieu of Inheritance Tax and allocated to the British Library.
The manuscript contains 42 keyboard works by Byrd, all of which remained unpublished because of the difficulty in publishing keyboard music as compared with the easier separate part books of vocal music. The handwriting is extraordinarily beautiful and was done by the copyist John Baldwin.
There are corrections throughout and it is thought that these are by Byrd himself. In the illustration below, you can see the additional bar lines added correcting the first 2 measures to be the first 4 measures.
The keyboard work Will yow walke the woods soe wylde (Will You Walk The Woods So Wild) is dated 1590 in the manuscript (see the illustration above), so would have been written shortly before the manuscript was created.
The piece starts simply and then gets more complex, with the melody moving between the right hand and the left hand.
William Byrd: Will Yow Walke The Woods Soe Wylde

This 1951 recording was made for broadcast on MWDR, Hamburg, Germany. The pianist was Eduard Erdmann (1896-1958), born in the Governate of Livonia (now in Latvia). He studied in Riga before further working in Berlin. His reputation in the early 20th century was that of a consummate composer and pianist. In order to work, he joined the Nazi Party in 1937, and, although not sympathetic with the party, his reputation was ruined. It was only in 1950 that he became Professor of Piano at the Hochschule für Musik in Hamburg. It is only in the 21st century that there has been a re-examination of his compositions.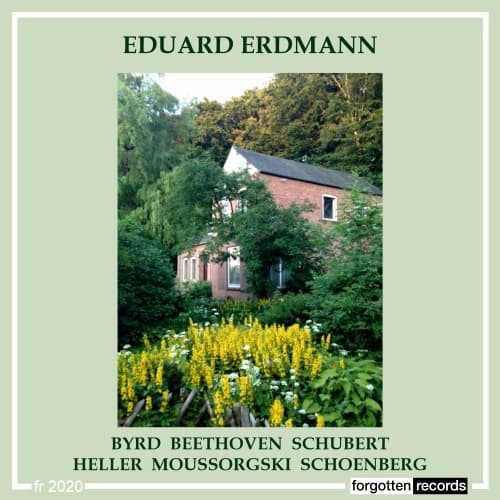 Performed by

Eduard Erdmann

Recorded in 1951

Official Website
For more of the best in classical music, sign up to our E-Newsletter