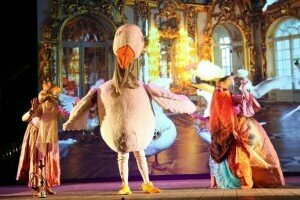 Wolfgang Amadeus Mozart scored a resounding triumph with The Abduction from the Seraglio in 1782. Impatient to write for the stage again he made two abortive attempts at opera buffa. Initially, Mozart requested a libretto from the Salzburg court chaplain Gianbattista Varesco, who had previously written the text for Idomeneo. As he pens to his father, "Please keep on reminding Varesco about the matter you know of. The chief thing must be the comic element, for I know the taste of the Viennese." Mozart was certainly eager to get started, as he writes only a couple weeks later. "Have you heard anything yet from Varesco? Please do not forget what I asked you. When I am in Salzburg we should have such an admirable opportunity of working together." Despite initial doubts by Varesco, early drafts of the libretto were communicated to Mozart, who liked them "quite well." When he visited his father and sister in Salzburg during the summer, the story of L'oca del Cairo (The Goose of Cairo) was further discussed.


And what a story it turned out to be! A farcical take on the Trojan horse legend, it features the Spanish Marquis Don Pippo who keeps his daughter Celidora and her handmaiden Lavina locked up in a tower on the island of Ripasecca. She is betrothed to Count Lionetto, but her true love is the wealthy gentleman Biondello. Eventually, Biondello makes a bet with the Marquis that if he can rescue Celidora from the tower within a year, he wins her hand in marriage. Once the bet is accepted, Biondello aided by two servants, Auretta and Chichibio barely miss on their first attempt to get into the castle. Eventually, Biondello's friend Calandrino—who is actually Lavina's lover—constructs a giant goose for Biondello to hide in. The gypsy woman Sandra, who is actually Don Pippo's wife Donna Pantea presumed dead, presents the goose to the Marquis as the wonder from Cairo. The Marquis immediately has the bird brought to his daughter, and Biondello leaps from the belly of the animal. The Marquis is forced to give in, and Sandra reveals her true identity. And finally, Celidora and Biondello, Lavina and Calandrino, Auretta and Chichibio are able to marry one another.
With the libretto completed, Mozart set to work and by December 1783 had composed most of the first act. But doubts about the librettos started to creep in. "I can really say that I am quite satisfied with the aria buffa, the quartet and the finale and am looking forward to their performance. I should therefore be sorry to have written this music to no purpose. Neither you nor Abbate Varesco nor I have noticed that it will have a very bad effect and even cause the entire failure of the opera if neither of the two principal female singers appear on the stage until the very last moment, but keep on walking about on the bastions or on the ramparts of the fortress…" After offering various adjustments to the story line, Mozart continues, "Well, I entreat you to expound my views very clearly to Abbate Varesco and to tell him that I implore him to go ahead. I have worked hard enough in this short time. Why, I should have finished the whole of Act I, if I did not require some alterations in the words of some of the arias."
Finale Act I
After some intensive correspondence to and fro, Mozart eventually realized the hopelessness of the project and abandoned Varesco's libretto. Mozart was not a happy camper, and indirectly accused Varesco of not "having the slightest knowledge or experience of the theatre." He writes to his father, "At present I haven't the slightest intention of producing it. I have works to compose, which at the moment are bringing in money, but will not do so later. As it is, the impression I have gained from Varesco's text is that he has hurried too much, and I hope that in time he will realize this himself. That is why I should like to see the opera as a whole; he need only jot it down in rough and ready fashion. Then we can make drastic alterations. For by Heaven there is no need to hurry. If you were to hear what I have composed, then you would wish, as I do, that my work should not be spoilt! And that is so easily done and so often. What I have composed has been put away safely." Mozart never finished
L'oca del Cairo
, but there have been some recent attempts to complete the fragment.
Wolfgang Amadeus Mozart: L'oca del Cairo (unfinished)