Brazil, like many countries in the 19th century, saw the rise of a well-to-do middle class that then needed entertainment. In the field of classical music, the Imperial Conservatory was founded in Rio de Janeiro in 1848 and the Academy of National Music and Opera was established in 1857. Private music societies that organised regular concert seasons also served the need.
To encourage young composers and musicians, the state provided scholarships for study in Europe. Antônio Carlos Gomes (1836-1896) benefitted from this in another way – he entered the conservatory in Rio de Janeiro and studied with the Italian Gioacchino Giannini. Giannini had been in Rio since 1846 and his reputation was that he was too impatient to teach and often refused entry to even his own students. Gomes, however, was his most famous student. Two of Gomes' operas were staged in Rio and then the government scholarship permitted him to study in Milan. His most famous opera was La Guarany (1870), which had its premiere at La Scala in Milan.
Outside of opera, Gomes was a skilled instrumental composer. The Sonata for Strings was written in Milan in 1894 and it is in the work's final movement, subtitled 'O burrico de pau' ('The Wooden Donkey'), that Gomes' skill and humour are showcased. Gomes uses pizzicato and melodic jumps to show the donkey braying, and rhythmic ostinatos to put the donkey in motion, galloping across the orchestra.
Another translation of the title could be The Rocking Horse (or Rocking Donkey) and then we can enter a child's imagination of taking his rocking donkey racing across the nursery, taking that sharp corner at the bedroom, and galloping on till morning.
It's a light and lovely work that gives us the sound of Brazil in the late 19th century.
Carlos Gomes: Sonata for Strings in D Major (version for string orchestra) – IV. Vivace, "O Burrico de Pau" (The Wooden Donkey) (English Chamber Orchestra; Neil Thomson, cond.)
The English Chamber Orchestra calls itself 'the most recorded chamber orchestra in the world', with nearly 900 recordings to its credit. Neil Thomson has been Principal Conductor and Artistic Director of the Philharmonic Orchestra of Goiás, Brazil, since 2014 and also has an international career as a conductor.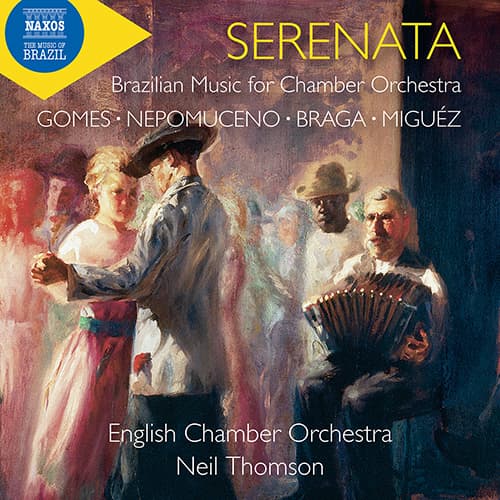 Carlos Gomes: Sonata for Strings in D Major

Performed by
Neil Thomson
English Chamber Orchestra

Official Website
For more of the best in classical music, sign up to our E-Newsletter