The joys of Civil Service!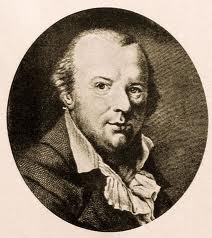 If you really think that being a composer in the 18th and 19th centuries was an easy way to make a living, just ask Johann Friedrich Reichardt (1752-1814). Born into a highly musical family in Königsberg, then the capital of East Prussia, Johann was an accomplished violinist and keyboardist by age 10. Once he enrolled at the University of Königsberg he fell under the influence of Immanuel Kant, widely considered a central figure in the establishment of modern philosophy. Kant persuaded young Johann to take up the study of law and philosophy in Leipzig, yet concordantly he also took music lessons from Johann Adam Hiller. After concluding his studies, he traveled widely throughout Germany and published his first compositions and writings on aesthetics and music.

Johann Friedrich Reichardt: Erwin and Elmire
On the strengths of his early compositions, Reichardt was appointed Royal Prussian Court Kapellmeister at the court of Frederick the Great. He married the lovely Julianne Benda, daughter of the composer Franz Benda, and he composed a large number of songs during his first years as a civil servant. After the untimely death of his wife, Reichardt made several trips to England, Switzerland, Sweden, France, Italy and Austria. While in Vienna, he was introduced to Christoph Willibald Gluck in 1783. Once he returned to Berlin, Reichardt developed professional and personal relationships with Johann Wolfgang von Goethe and Friedrich Schiller. He even collaborated with Goethe on Claudine von Vila Bella, the first German opera given at the Prussian Court.


Reichardt frequently visited the city of Paris, and he gradually developed deep sympathies for the causes of the French Revolution. His
Intimate Letters on France
published in 1792, in which he sharply criticized Beethoven, destroyed his relationship with Goethe and he was summarily sacked from his Court Kapellmeister position. In 1796 he was pardoned and returned to civil service with an appointment at the municipal salt mine in Halle — once a civil servant, always a civil servant! He also obtained permission to compose again, and was a frequent guest in Berlin conducting performances of his works. Eventually, Reichardt became a vocal opponent of Napoleon, with the result that the occupying French army sacked and burned his estate at Giebichenstein. Reichardt initially fled to Danzig, but eventually resurfaced as the Theater Director in Kassel in 1807. He died from a gastric illness and in abject poverty in 1814. His life as a civil servant was certainly not glamorous nor was his craft profitable; but at least he managed to travel a bit!
As a composer, Reichardt is primarily known for various vocal genres, composing roughly 1500 Lieder and Ballads throughout his career. These settings on texts by almost 125 poets showcase a highly creative and individualistic, yet frequently idiosyncratic approach. We should not forget, however, that his settings of texts by Goethe, including such eminent poems as
Erlkönig
and
Heidenröslein
served as inspirations to the young Franz Schubert. His dramatic vision also incorporated elements of the new
Singspiel
. In 1787, Reichardt turned Goethe's romantic tale of
Erwin und Elmire
into a light-hearted comedy. With Goethe's help in adjusting the text, the work was well received and highly acclaimed in Berlin. Today, the vast majority of his compositions and the composer himself are largely forgotten.