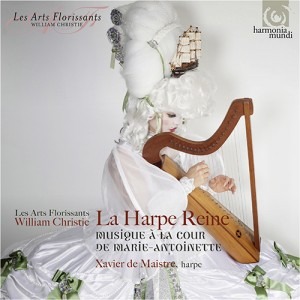 Jean-Baptiste Krumpholtz
III. Rondo – Allegro
From Jean-Baptiste Krumpholtz: La Harpe reine (2016)
Released by Harmonia Mundi
Jean-Baptiste Krumpholtz: Concerto for Harp and Orchestra No. 5 in B-Flat Major, Op.7 – III. Rondo – Allegro

The Triumph of the Harp!
When the young Archduchess of Austria, Marie-Antoinette, arrived at the French court in 1770, amongst her luggage was a harp. Contrary to the instrument's heralded decline, the harp was about to enjoy an unprecedented popularity and to inspire a rich and prolific repertoire, quite distinct from the concertos being composed for the keyboard. Xavier de Maistre and Les Arts Florissants are offering to take us on a voyage of discovery through this magnificent corpus, brought to life using instruments of the period in a program that is as accomplished as it is captivating, placing other names, other masterpieces in the limelight alongside the likes of Haydn ("La Reine" Symphony) and Gluck!