United by their passion to share the benefits of yoga and mindfulness with the wider musical world, Intermission is the brainchild of violinists Elena Urioste and Melissa White, both wonderful musicians in their own right who, in 2017, teamed up to create a programme that, in their own words, 'unites body, mind, breath, and music-making through yoga and meditation'.
Elena and Melissa's friendship blossomed early on in their musical lives, meeting and collaborating at various courses and competitions in the USA around 2003. Their shared love of yoga, which began in 2009 – well into their respective lives as touring musicians – became another practice that united the two, both noting the stability and grounding it afforded them in their fast-paced lives of travelling and performing.
Intermission's work focuses on wellbeing and self-care for musicians, teaching and sharing techniques that enable musicians to see themselves as a holistic whole, rather than simply players of notes.
In an industry notorious for its irregular hours and gruelling lifestyle, where traditional notions of self-care and balance have perhaps not been at the forefront of training and teaching, Intermission aims to right that balance, helping musicians to cultivate a fruitful, healthy physical and mental practice that can help sustain a long and fulfilling career.
These days, with Melissa still based in the US and Elena now in London with a young family, in-person meetings between the two are sadly not as frequent as they used to be. However, Intermission is still going strong, offering both online and in-person workshops with music students, in-person retreats for professionals, and dozens of videos and other online resources offering everything from practical tips to stay grounded on the road to guided breathwork and yoga routines.
4-5-6 Breathing
I talk to Elena about the genesis of Intermission, the importance of a good wellbeing practice for musicians, and what the future holds for the organisation.
What did you enjoy about your yoga practice early on?
Melissa and I got to talking on a tour in 2009 about how much we had recently fallen in love with hot yoga, how much solace it provided us from the craziness of our touring and hectic lives, and how it was positively influencing our bodies, our relationships to the violin, and our mental focus in the practice room and onstage; from that tour, we started looking for opportunities to practise both individually and together, anywhere we went.
Traditional hot yoga practice stays the same no matter where it is in the world, a principle which we both found really inviting because we were both swept up in these professional lives that were very nomadic, very irregular.
The fact that we had found a practice that remained the same in any country, in any language, and we could just show up and know what to expect, proved invaluable to our physical and mental health.
It afforded us the chance to turn inward and find more subtle ways to reflect, grow, and track our progress, so for all manner of reasons it was an appealing practice and a really excellent gateway into yoga in general.
Any time we rolled out our mats in a class, that little space automatically began to feel like a version of home. It was a place where we could just meet ourselves where we were in any given moment, which for us was the best possible way into a yoga and mindfulness practice – which I totally understand can feel daunting to some who might be thinking, "Where do I even begin!?"
Do you try and promote that grounding, that continuity, with Intermission?
Absolutely. There are so many physical and athletic challenges to being a musician, among them keeping our bodies in shape and resilient to all the strain we put them under. We're basically small-scale athletes, repeating the same tiny movements over and over, while simultaneously exerting ourselves a huge amount, energetically and emotionally speaking.
When we come off stage we're dripping with sweat (or at least I am!), we're exhausted; it's undeniable that performing is a massive physical undertaking, but unfortunately I've noticed that a lot of musicians don't necessarily treat their bodies with the same care or respect that any other sort of athlete would.
I think we owe it to ourselves to prepare the body for what it is that we do every day. Additionally, we must allow ourselves to recover: resting, having bodywork, and so on.
What about the psychological side of things?
Performing can be extremely gruelling psychologically. Managing performance anxiety, maintaining concentration: a practice like yoga or meditation can really go a long way, not in the sense of 'curing' anything, but just providing a bigger box of tools to manage that side of the profession.
With the amount of travel and moving through the world, and with the flexibility that our extremely irregular profession requires of us, something like a yoga or mindfulness practice – even if you spend just five minutes breathing or doing some gentle stretches at some point in the day – can be a real safe haven for us, a sort of refuge.
We give ourselves permission to simply check in with where we are, how we're feeling, what we need, even whether or not we've taken a proper deep breath all day – for me sometimes the answer is no – and just afford ourselves that little bit of time and space to re-centre and re-collect ourselves.
How do your yoga and mindfulness feed into your performance?
Performing is the ultimate act of giving. Even in an ideal performance scenario, when you're not playing at people but rather playing for or with people and you receive as much energy from an audience as they feel from you, sharing music still requires a full cup, emotionally speaking.
I can definitely tell when my cup is being emptied and I need to do something to refill it. Sometimes it's just asking for an hour for myself – even if I can't get to a yoga class, rolling out the mat at home, or even just sitting quietly and trying to quiet my mind can go a long way towards refilling my personal reserves.
I wouldn't change it for anything, but it is an exhausting profession. We rarely grant ourselves the permission to give back to ourselves what we spend so much time giving to others.
Eagle Arms
Did you face skepticism from people while setting up Intermission?
All of the people who came to the first retreats were incredibly open-minded, curious people, regardless of their experience with yoga. Some had lots, some had absolutely none; but the thing they all had in common was that they were really supportive, interested souls who wanted to discover what it was all about, and who had made the decision to commit to a week of taking care of themselves in one form or another.
One of the biggest challenges with Intermission since the beginning has been convincing people firstly that a yoga and mindfulness practice is worth it, and secondly that they're worth it – that they deserve to take care of themselves, deserve to feel good in their bodies (and that that absolutely translates into their relationship with music-making), and that they deserve to treat themselves, whether that's for a week or an hour or five minutes.
It should also be admitted: sometimes yoga doesn't feel like you're treating yourself! Sometimes it feels like incredibly hard work, but the payoff is really enormous and long-lasting, physically, mentally, and emotionally. There is a potentially limitless reward to putting in the work, and it can continue resonating for years.
The thing I wish most people would know – musicians and non-musicians – is that something like a yoga or mindfulness practice, honestly, is largely about simply showing up.
Even if you just sit on a mat or a cushion for an hour and don't 'do' anything, if you've made the decision to devote 60 minutes of quiet introspection to yourself, then that's terrific. That's more than most of the world is doing.
What advice would you give to someone unsure about how to start something like a mindfulness practice?
Show up for 60 seconds. And then the next day: 60 more seconds. Whether it's simply sitting quietly and closing your eyes; or maybe rolling out your mat, putting on some unobtrusive background music, and starting to see what it does to you – maybe you fall asleep on the floor, which is fine; maybe your wrist starts moving in an interesting way and the rest of your body follows, which is fine too – there really aren't rules. There isn't a 'wrong' way to be mindful.
Mindfulness is just about starting to notice what's going on in your body, in your immediate surroundings, in your mind, and acknowledging all of it, taking the time to notice whatever it is that's coming up, breathing through it, and reassuring yourself that it's all quite changeable and impermanent, for better or worse.
Do you think the tide is turning for the better on how musicians take care of their bodies?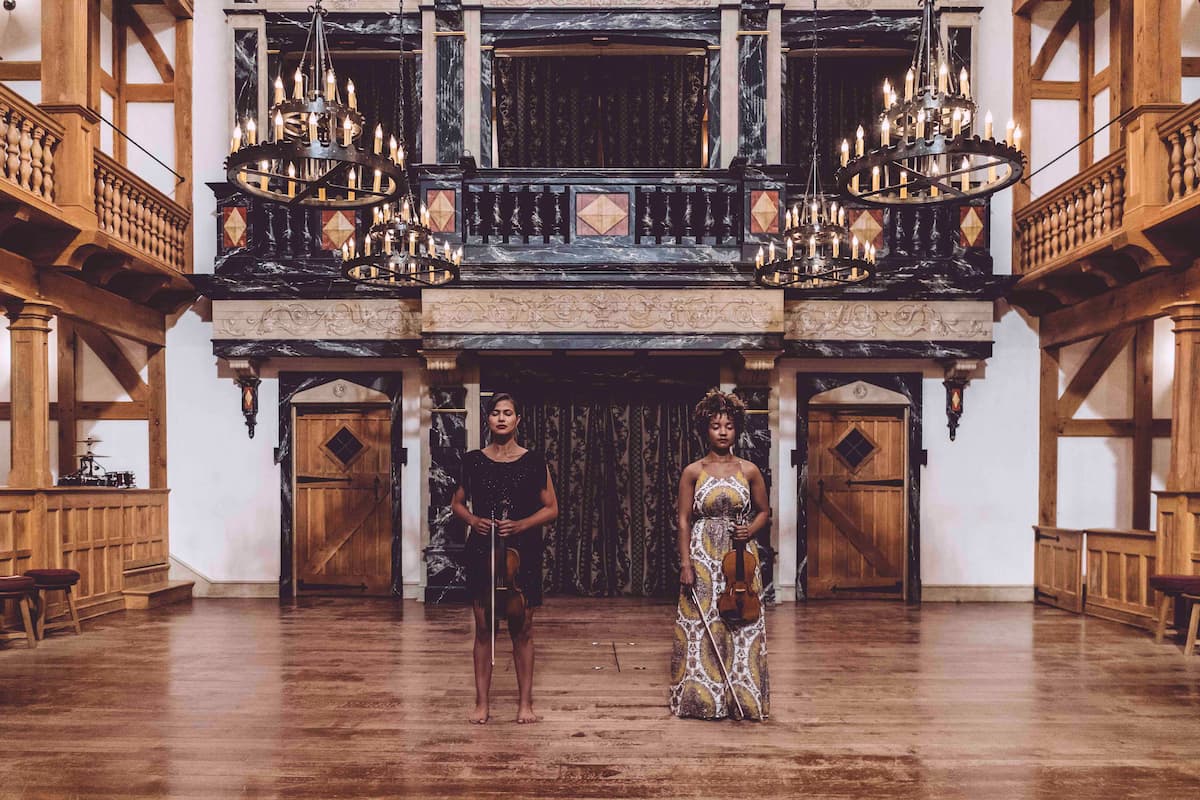 I think we are moving in a positive direction. I just saw Melissa in New York for a day, and it was so wonderful. One of us said that it seemed like way more movement and mindfulness and wellness initiatives are cropping up for musicians, not only in schools and festivals but in self-driven, individual initiatives.
It seems like many more musicians have been inspired to delve into these further: to do a yoga teacher training or some other mindful movement training and to share it with their colleagues and students.
This makes us feel really delighted (and relieved!) – it's also so great that it's not just us! We don't want to own the idea of wellness for musicians! We want as many musicians as possible to pursue wellness in whatever form best suits them, and luckily it does seem that this is becoming a more widespread pursuit.
The psychological approach to pedagogy is also changing, thank goodness, and I certainly think it's not unrelated to physical wellness. I don't imagine that all instrumental teachers are having their students do sun salutations, but there's obviously a much bigger emphasis on the importance of mental health, on being open about any personal issues, and speaking up if something doesn't feel right, which is wonderful and so overdue.
I can only hope that music education, and the profession, continue making strides in acknowledging the whole musician, the whole person.
10 Moves for Musicians
What does the future hold for Intermission?
To be honest, there probably won't be an in-person retreat this year. We did one last year and it was wonderful for so many reasons, particularly for the sense of community it afforded us again after so many months of isolation, but the climate is very different post-pandemic than it was a few years before.
It's clear that people are craving wellness, physical care, and connection with the community more than ever. On the flip side, people are more concerned than ever about their finances, myself included. In the best of times, freelancers, in particular, have always been reluctant to sacrifice a week for something like a retreat, thinking 'What if some big opportunity comes in!?', which I can also completely understand.
So after a few years of our professional and personal lives being turned completely upside-down by the effects of the pandemic, I can completely empathise with people's reluctance to commit to something like a retreat for a week out of their year.
Right now, Melissa and I are reevaluating, thinking long and hard about moving forward and what would best serve the musical community. We're beginning to plant little seedlings; we don't have clear answers yet, but in the future, we definitely hope to revive our in-person events that will include a yoga retreat atmosphere.
For example, we would love to, alongside our community, reimagine the concert experience, to create something truly shared amongst listeners and performers, and we feel that our in-person Intermission activities are a perfect safe space to explore things like that.
Within a year or two we hope to have a more permanent and affordable place to host people and to pursue ideas that reflect what we've all gone through the last few years, expressed through gathering, sharing music, moving together, and everything else that's involved with being a musician.
We want to reopen our space in a way that acknowledges all that we've been through, and honours whatever it is what people need in the present moment.
For more of the best in classical music, sign up to our E-Newsletter