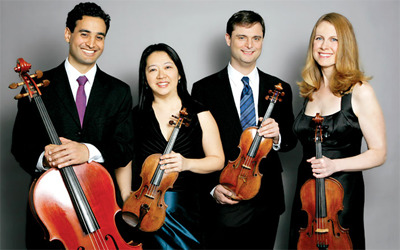 If you are a fan of Mozart and you had missed the Daedalus Quartet's live interpretation of his Clarinet Quintet in A major, K581 with Grammy award-winning clarinet soloist Richard Stoltzman at the premiere concert of The Intimacy of Creativity, you probably want to start regretting it now. A perfectly balanced blend of sounds, in which each instrument shows its particular voice and character in a lucid style- the definition of an 'ensemble' could never be better defined than this. If you had the chance to meet the players, you would be amazed by the similar temperament they share- slightly reserved but greatly communicative in the language of music as they devote all energy into conveying musical emotions.

Having made their debut performance in Hong Kong, the players are thrilled to collaborate with young composers as well as reputable artists in the city. "It's such a pleasure to be here working with all musicians. It's actually our first time in Hong Kong- second time in Asia. The Intimacy of Creativity is a great project- the general atmosphere and the workplaces are so good. Also we think it's a great opportunity for one to know more about composing as we have a piece under microscope here." Having converted to ensemble dedication from orchestral engagements, the players speak about the pros and cons between the two, "When you're in a quartet, there's only one person in one part. Each of us makes our own decision. It's more of a partnership and you're more exposed as a part. When you're in an orchestra, it's thrilling to be part of a huge band of players- you're connected with more than 100 players on stage creating together this huge sound scope."
"The quartet is nonetheless a great repertoire, yet it is also a challenging genre. It's the most intimate form of music in which each player has his own role. When all of the players join each other, we try to bring out the composer's fullest," the group explains their perception on ensemble works. When they describe the uniqueness of the Daedalus Quartet, you can feel their hidden ambition behind modesty. "We have the desire to perform pieces from earlier period to contemporary times. In fact we did a lot of performances on various styles of pieces and works by different composers. In our ensemble, there is diversity as each of us has our own voice but at the same time there's also unity. Together, we travel around the world to present our diversity of voices." Indeed, the ensemble seems to be able to catch the mood precisely for any piece of music, whether it is written in the classical or contemporary times. And the essence of their performance is that they seem to be capable of expressing the pieces with their own silky voices whilst capturing every fleeting emotion in each piece. As for finding appropriate ways to interpret so many stylistically altering pieces within just two weeks, the Daedalus Quartet members pay the utmost effort to find a exclusive voice in each. "We try to focus on certain aspects of composers and from that we bring something different."
"Ultimately it's not about the four of us because we put music as our number one priority. We work towards our musical goals with whatever it takes." It's most apparent that such sincerity would very much be highly anticipated.
Links:
Daedalus Quartet's official website