Should we consider Mozart to be the most positive of composers? In all of his dozens of symphonies, they were all in a major key, with two exceptions and those were both in the same minor key. Mozart's Symphony No. 25 in G minor is usually forgotten because of the love we have for his other G minor work, his Symphony No. 40.
In his work, The Elements of the Beautiful in Music, Austrian composer and pianist Ernst Pauer chose Mozart's G minor works as emblematic of the key: it's the key for the sentimental, but not the passionate. Its affect covers sadness, sometimes quiet and sedate joy, and a gentle grace with a slight touch of dreamy melancholy. Occasionally it rises to a romantic elevation – it can't reach the passionate because of its innate sweetness.
In its opening, Mozart's Great G minor symphony, No. 40, has a theme that conveys the dreamy melancholy that Pauer said was the feeling for the key. In its predecessor, the Little G minor, we hear different kind of opening, more like a kind of false bravado. It's neither passionate nor romantic. It's an early Mozart symphony so it's a bit on the chuggy side. It's only when the oboe melody arises out of the spinning violins that we start to hear the melancholy that Pauer saw. Then we re-hear the violin lines as rather a desperate happiness – not really, but just pretending to be happy.
The Little G Minor symphony was written in 1773 by the 17-year-old Mozart.
Wolfgang Amadeus Mozart: Symphony No. 25 in G minor – I. Allegro con brio
This recording was made in 1958 by the Orchestre de la Société des Concerts du Conservatoire under the direction of André Vandernoot. Belgian conductor Vandernoot studied at the Royal Music Conservatory in Brussels before additional studies in Vienna at the Hochschule für Musik. The orchestra, the Orchestre de la Société des Concerts du Conservatoire, was founded in 1829 in Paris and was important in keeping the style of music as taught at the Paris Conservatoire prominent. The orchestra folded in 1967 and was reformed as the Orchestre de Paris.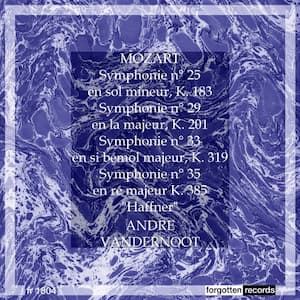 Performed by

André Vandernoot
Orchestre de la Société des Concerts du Conservatoire

Recorded in 1958

Official Website
For more of the best in classical music, sign up to our E-Newsletter