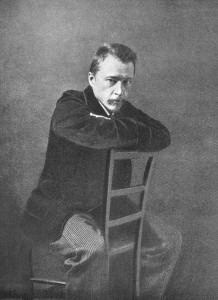 In the world of chamber music, Hugo Wolf (1860-1903) is not a household name. And there is good reason for this, as Wolf's work consists predominantly of Lieder. He wrote large-scale song cycles on poems by Mörike, Goethe and Eichendorff, and an Italian and Spanish Song Book. Wolf brought a concentrated expressive intensity to the genre, and his finest songs—offering penetrating psychological insights—are both emotionally demanding and musically profound. His single opera Corregidor is based on a Spanish comedy, and Wolf blamed his friend and onetime roommate Gustav Mahler for sabotaging the work at the Hofoper. On the instrumental side he composed the symphonic poem Penthesilea, and left only three completed chamber works.

Born in Windisch-Graz, currently located in Slovenia, Wolf was a child prodigy who began his study of piano and violin by age 4. By the time he entered primary school, he was taking advanced piano and music theory lessons. Exclusively focused on music, regular education failed to hold his interest and he was dismissed from three secondary schools on account of his "damned music." Wolf enrolled at the Vienna Conservatoire but was soon at odds with the conservative establishment and expelled for "breach of discipline." Wolf had the rare distinction of being snubbed by both Wagner and Brahms when he tried to show them his compositions. He became a music critic—the only steady job he would ever hold—and mercilessly attacked works that he saw as inferior. Known as "Wild Wolf," he took particular pleasure in detesting Johannes Brahms. Sufficed to say, Wolf did not make many friends and lived, supported by a small circle of close friends, from hand to mouth.

As you might have gathered from this brief biographical sketch, Hugo Wolf was a somewhat troubled character. "Creative work makes me happy," he writes, "but the subsequent pauses for rest are all the more painful, for then one begins to think things over, reflection sets to work to shatter the picture built up by imagination, and the cold common sense resumes its pettifogging rights. In fact happiness is not for me, so lets leave it at that…" One distinct source of unhappiness was his infection—like Schubert and Schumann before him—with syphilis. First symptoms manifested themselves in 1878 and the composer quickly descended into mental illness. He composed in manic bursts between periods of depression, and by age 37 was committed to a lunatic asylum after trying to drown himself in October 1898. He would die in the insane asylum from tertiary syphilis only seven years later.

Hugo Wolf: Italian Serenade
The Serenade, originally planned in three movements, was written in May of 1887 and subsequently titled "Italian." Although Wolf did not specify the literary source behind the work, it is now assumed that he fashioned it after Eichendorff's novelette Aus dem Leben eines Taugenichts (From the Diaries of a No-gooder). The main character of the novelette is a young violinist who charms everybody at first sight, only to disappoint everybody with his shiftiness shortly thereafter. The work features an episodic layout, with quasi-recitative passages providing an elegant yet ironic take on the idea of romantic love. Individual characters are carefully drawn, and the narrative parts of the story develop through the solo violin. Wolf could hardly have sketched a more fitting musical self-portrait!

For more of the best in classical music, sign up to our E-Newsletter