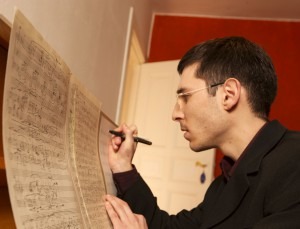 Born in 1982, Israeli composer Gilad Hochman was already defined as "one of Israel's most prominent composers" by the Deutschland Magazine and as "a rising star in the classical music world" by France 24. His search after expression and originality in music had led to many musical pieces and growing public attention. Being recognized by the BBC as an "already well known classical composer", Hochman's music is regularly performed and appreciated by musicians and the audience alike. In his homeland, Hochman's music was praised to be "written with a true artist's hand" by Ma'ariv newspaper's critique. Today he continues his artistic search in Europe.

Hochman's grandfather was an amateur violin player. His father also plays the piano. As a child, he was always curious about this wide-ranged and dynamic instrument. Hochman started learning piano at the age of 6. Since then, music became a wonderful secret language in expressing his own emotions and thoughts, in which words fail to fulfill in certain situations. Around the age of 9, Hochman started to modify the music he studied during lessons. Tuneful melodies and various musical structures were written on his empty music sheets. During this time, he was motivated to explore widely in the field of classical music and listen to the great compositions by J.S. Bach, Haydn, Mozart, Beethoven, etc. He commenced his formal study on composition at 14 under the tutelage of composer Ilya Heifets and pianist Mark Shaviner at the Herzeli'ya Music Conservatory. In 2007, he graduated with honors from the Buchman-Mehta School of Music at Tel Aviv University, studying under composer Gil Shohat, in the majors of musicology and composition.
Amongst his many achievements, Hochman became the youngest composer to be awarded the prestigious Israeli Prime Minister Award at the age of 24, being described as "a fascinating, original and colorful creator". He was appointed by one of Israel's well-known orchestras, Ra'anana Symphonette, as the youngest composer-in-residence (at the age of 22). He founded and artistically directed the Arco String Ensemble and the New Sounds concert series of the Israel Composers' League. In 2007, won a merit certificate from the city of Ra'anana.
Hochman's œuvre includes a wide range of compositions for solo instruments, chamber music, choirs and orchestras which are commissioned and performed by leading musicians in Israel, the US and all over Europe. His work reflects a verity of aesthetic approaches: on the one hand, it follows the classical music's development, yet on the other hand he puts a great emphasis on themes relating to the Jewish tradition and his Israeli origin, creating his unique musical language that is lyrical and expressive. He constantly draws inspiration from music of all genres as well as from literature, poems, philosophies, conversations with creative people, from his listeners and wonderful musicians as well as from his daily life.
In addition to music, Hochman was also committed to martial arts since early childhood years. He studied Karate for 11 years and pleasantly found unity between these two passions which seemed to be allegedly distant fields. From this unity, he learned to appreciate other different fields around him, which provided the source for his creative outputs.
Hochman currently resides in Berlin, Germany. His music will soon be published by the well-established publishing house Verlag Neue Musik, based in Berlin. Some of his upcoming projects include a premiere of a new work Hommage to the Unfinished commissioned by the Israeli Schubertiade in January 2012, a performance of Whom My Soul Loveth for cello solo and choir in February 2012 by the Kamerkoor Maastricht in The Netherlands, conducted by Ludo Claesen with solo cellist Mirel Iancovici and a premiere of a new work commissioned by the Berlin-based Ensemble XelmYa in Berlin and Mexico in April 2012.
Details of the work:
https://www.giladhochman.com/music-a-voice-in-the-wilderness
Poem which inspired the above music:
Speak Desert to Me
by Nava Semel (written in Hebrew, translated into English by Prof. Miriyam Glazer)
Speak Desert to me –
a tongue ancient and forgotten –
a language of nomads who cross the depths of the earth
from the border of the wasteland
to the oasis on the edge of the abyss.
Speak Desert to me –
the language of the rod and the staff,
the language of fear, whose syllables are engraved still
on my quivering flesh.
A secret tongue, somewhere alive.
You are a gnawing burn in my skin,
a comforter in the freezing cold.
Be the spike for my shaking tent
Stop us from drowning in the swirls of sand.
Already my eyes are blinded.
Your footsteps were lost
where there is neither "dew nor rain"*
and a sandstorm from far away is coming upon us –
a wave of dust erases the horizon.
We'll be ground to nothing soon.
Speak Desert to me
And I'll call to you from far away.
How will we guide our cry in this wilderness?
My voice must travel
from the border of the desert — a sea, once,
that evaporated, disappeared, a long time ago
How will we guide our cry from the boundary
that was once a shore,
and now is smothered by dunes of oblivion?
How much water we once had!
A river used to gush for us both –
and all that is left now are
Dry bones, a fleeting shadow, a bush of thorns.
Speak Desert to me –
Like the echo of a whale whose mouth, filled with sand,
heaves a last dusty breath as
he strikes his tail,
and still sings.
* see Samuel 1:21
Musical Chairs

Official website:
http://www.giladhochman.com/