György Ligeti's 1977/1996 opera Le Gran Macabre was commissioned by the Royal Opera in Sweden. It operated both as a summary of the previous 25 years of his compositional work and an overview of the human condition from 'sex to politics, inebriation and death.' Set in the mythical kingdom of 'Bruegelland,' inhabited by the peasants, monsters and apocalypses seen in Breugel's paintings. The opera received its debut in 1978 in Stockholm, Sweden and then, revised by Ligeti, appeared in 1997 in Salzburg, in a production directed by Peter Sellars.
Three arias from the opera were excerpted as for concert performance by soprano or trumpet with accompaniment under the title Mysteries of the Macabre.
In Breugellan, Chief of the "Gepopo", the Secret Political Police, comes to inform Prince Gogo and the citizens that the planet is in danger of destruction. However, he's so afraid and hysterical that his message cannot be understood. In this arrangement for trumpet by Elgar Howarth, who conducted the Swedish premiere, the unintelligible message is conveyed by 'an absurd merry-go-round of shrieks, whistles, stamps, maraca shakes, and spoken gobbledygook.' In the end, as the Chief get more alarmed and his psyche breaks down as the message isn't getting across, 'the music lurches inexorably towards the abyss.'
Seems rather like a metaphor that is even more apt today as the world lurches through its current convulsions, refusing science and reality and substituting believe and the personal! However, as a work for trumpet, the work tasks even the virtuoso player through its demands.
György Ligeti: Mysteries of the Macabre (arr. E. Howarth for trumpet and piano) (Huw Morgan, trumpet; Patricia Ulrich, piano)


Trumpeter Huw Morgan, Winner of the Prague Spring, Ellsworth Smith, Girolamo Fantini, Only Brass and Lieksa international trumpet competitions, is principal trumpet with the Sinfonieorchester Basel.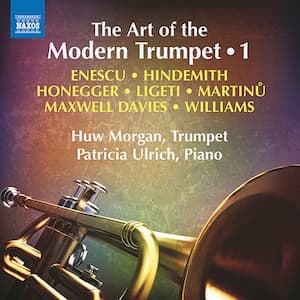 György Ligeti: Mysteries of the Macabre

Performed by
Huw Morgan
Patricia Ulrich

Official Website
For more of the best in classical music, sign up to our E-Newsletter