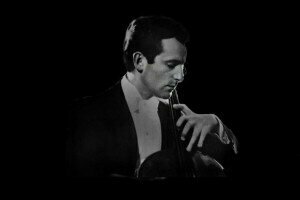 Our next featured cellist, Daniil Shafran, was born in 1923 in Petrograd, now Saint Petersburg, and came by his talent honestly. His father was the principal cellist of the Leningrad Philharmonic and his mother Frida Moiseyevna, was a pianist.

Shafran's first teacher, his father, a taskmaster, instilled strict discipline, insisted on regular practice, and imparted lofty goals. In a conversation with Mark Silberkvit, Shafran said, "He always impressed on me that every single lesson was important. 'Music', he would say, 'is first and foremost hard labor. An artist reaps his just reward only if he has sweat, effort and inspiration into his work'. That is my creed, too." (From the book The Way They Play by Samuel Applebaum and Henry Roth.)

As a professional, Shafran continued this mantra—starting in the early morning he would practice for 5 or 6 hours except on concert days—sometimes playing pieces much too fast so as to be able to play flawlessly at the right tempos. His preparation was such that he even donned his tails for his dress rehearsals.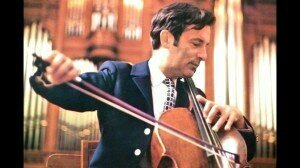 Shafran continued his studies with Alexander Shtrimer, at the Special Music School for Children. Two years later, at age 10, he was deemed worthy of attending the Leningrad Conservatory. Shafran's first solo appearances, at the tender age of 12, included two dazzling show pieces difficult even for seasoned players—Spinning Song and Elfentanz by David Popper, and he made his solo debut in Tchaikovsky's Rococo Variations with the Leningrad Philharmonic. Shafran recorded the work in 1937. That year, although he was under the age limit, he entered and won the Soviet Union's National Competition. How fortunate for the 14-year-old! Not only did he achieve a national reputation, but during the prize-winning ceremony a rare and splendid 1630 Amati cello was bequeathed to him, the instrument Shafran played for the rest of his life.

Another cellist soon came on to the scene—Mstislav Rostropovich. The two Russians were neck and neck in competitions. In fact, they shared first prize in Budapest's 1949 World Democratic Youth Festival and the Hanus Wihan Contest in Prague in 1950.

When Shafran recorded Kabalevsky's Cello Concerto No. 1 in 1954, the composer took notice and dedicated his Concerto No. 2 to him, a piece that is angular, affecting, full of pathos and exceptionally difficult technically, written to honor the victims of World War II.

Daniil Shafran plays Kabalevsky Cello Concerto № 2 (rare film of D. Kabalevsky conducting)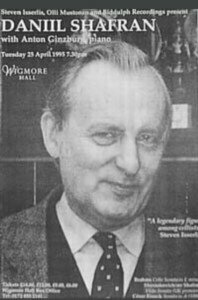 Shafran had an uncanny command of the highest registers of the cello. Later, I learned of his unusual fingerings—which no-one would know unless you were a cellist watching him. He utilizes his 4th finger and his thumb as singing fingers in the uppermost soprano range. In the aforementioned conversation Shafran explains, "The principle [of fingering] is simply— 'everything is permissible if it sounds beautiful, if it is justified artistically.' This fingering principle proclaims that there should be no rigid, dogmatic fingerings! All fingerings must be subordinated to bring out the content and expressiveness of a work—never because they are more comfortable or convenient…" Shafran's Amati was slightly smaller than full size, which he held more vertically than other cellists, and his hands were large and flexible to allow these unusual fingerings.
Dmitry Shostakovich: Cello Sonata, Op. 40 (Daniil Borisovich Shafran, cello; Lydia Pecherskaya, piano)
When I was a budding cellist I listened incessantly to Shafran's definitive 1956 recording of Shostakovich's Cello Sonata with the composer at the piano, and fell in love with his throbbing, shimmering, vibrato and idiosyncratic sound. Shostakovich reveled in the collaboration. He even took some of the cellist's suggestions. Shafran delved deeply into music with single-minded attention to detail and his finesse led to insightful interpretations.
Steven Isserlis, the esteemed British cellist admitted that he too, as a teenager, had been obsessed by Shafran's playing. Later in life, frustrated that he hadn't had the opportunity to hear the great man live in concert, Isserlis arranged a Wigmore Hall recital for him—Shafran's first London concert in 30 years. "Shafran turned all our pre-conceptions on their head, both musically and technically. Everything was utterly different from anything we had heard before—it was riveting," said Isserlis about the 1995 concert.
De Falla: Ritual Fire Dance, from El amor brujo
Shafran often included transcriptions of favorite pieces for other instruments as recital encores such as El Amor Brujo:
Ritual Fire Dance
(arr. for cello and piano) by Manuel de Falla, which are enchanting on the cello, hence expanding the repertoire of the instrument.
Shy and reserved as a person, Shafran spent most of his career performing and recording in Russia although he did some touring in Europe, the U.S., and Japan. Since his performances overseas were rare, Shafran was not well known among musical circles. Upon his death in 1988 no headstone acknowledged this great artist. The family donated his valuable Amati cello to the State Museum of Musical Culture with the promise that the museum would install an appropriate monument to Shafran. Three years passed. When it seemed like Shafran's contributions would never be acknowledged, Isserlis again stepped in and established 'The Daniil Shafran Memorial Fund' to raise funds for a headstone that would honor Shafran's memory and fortunately, for music-lovers, there are several wonderful recordings of this extraordinary and singular cellist.
Rachmaninoff: 'Vocalise'