Roxana Haines is one of these artists. She's a London-based theatre director who specializes in multi-disciplinary work, particularly in that most collaborative of fields, opera. Her latest project,
An Album of Memories
, creates personalized concerts for people who live with dementia.
Like many young artists of note, much of Roxana's work, including
An Album of Memories
, is with her own company Indomitable Productions. I should say now that I've recently joined Indomitable as Music Director, and it's been great to watch Roxana nurture the project into existence. The Bloomsbury Festival in London has commissioned the project for their festival this October, and I caught up with her in the middle of preparations for the show.
Tell us about your background. How did you form Indomitable Productions?
I am a theatre and opera director from Bristol, and moved to London to train at Goldsmiths University and then the Royal Central School of Speech and Drama. Both as an artist and audience member I'm particularly interested in magic and the surreal, and this interest has led me to create work that combines different art forms.
In 2013, two friends approached me about turning Britten's Five Canticles into a piece of theatre, and I said that I'd only consider it if we created a company. Our collective skills were really broad, with everything from music and theatre to movement and puppetry, and this seemed like the kind of company that I was interested in. Indomitable's first show toured Bristol, Bath and Cardiff as part of the Welsh Proms in 2013. Now, after 5 shows, 12 associate artists and over 500 audience members, we've developed three core aims: to develop work of a high quality, for that work to provide opportunities to early career artists and for every project to have a related. outreach or community project.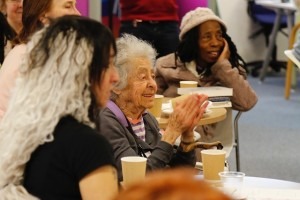 How did you come up with An Album of Memories, and what actually happens at each event?

It grew out of our last show, 'Still Falls the Rain'. That piece was about memory, and from there we developed a concert format based around the connections between music and memory. This led to

An Album of Memories

– a personalised concert for people living with dementia and memory loss.

Before the event we engage our participants through our partner organisations, talking to them about music that's been important to them. They request songs they'd like to hear, which form the first half of the concert. During the interval we take requests from the audience there on the day to build the second half of the concert.

The whole event is multi-sensory. Recent research has demonstrated the benefits for people living with dementia of engaging other senses, especially touch, so I looked to create a event that didn't just stimulate your ears, but each of your senses. So, like Proust's madeleine, we have tea and cakes during the interval and old-fashioned sweets to tingle your tastebuds during the concert. The concert programme is textured and tactile, and there's space to join in and dance during the show.

We also keep contact with our participants after the event by sending out thank you cards and photos from the concert.

What do you think is the effect of using music in dementia care? What effects have you seen?

A man called Endel Turving once said that our memories are like mental time travel. The same is true with music – when we listen, we're transported to a place in our long term memory. People living with memory loss have difficulty recalling things like facts, faces and places, and this can keep them fixed them in the present moment – but because musical memories are stored in long term memory, hearing a favourite song can trigger and release personal memories and allow that time travel.

Recent research shows how music can increase the emotional wellbeing of the person who lives with dementia. I have seen a gentleman who can barely string a sentence together place his hands on the keys of a piano and transport himself back forty years. I've seen the joy and sense of togetherness when a group of people can to remember the lyrics of songs and sing together. All of these experiences are valuable, no matter how big or small; each of us can make even a tiny difference to someone by sharing a favourite song.

What are your future plans for An Album of Memories?

We'll be delivering the project in Bristol, the company's home town, in March, and my dream is then to tour

An Album of Memories

in regional locations across the UK in both residential and community settings. I believe the project has the potential to make a difference to people anywhere – so maybe it's an ambition rather than a dream!

Indomitable Productions will deliver

An Album of Memories

at the Bloomsbury Festival in London on October 22nd. For more information, do visit the Bloomsbury Festival or Indomitable Productions websites.

www.bloomsburyfestival.org.uk/events/event/an-album-of-memories/ www.indomitableproductions.co.uk www.roxanahaines.co.uk

We live in a world with an ageing population. One of today's most pressing issues is how best support, engage and care for the elderly, particularly those with physical and mental disabilities. And while debate usually revolves around political, social and medical concerns, there is also a growing community of artists who are finding innovative solutions to these issues.