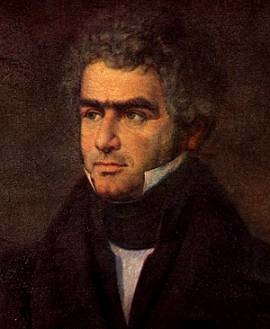 Clarinet Trio Op. 28 (1810)
Flute Quartet in C Major Op.145 No.1 (1830)
Cello Sonata in G Minor, Op.125 (1799)
Ferdinand Ries (1784 – 1838) was a German composer and the most notable friend and pupil of Ludwig van Beethoven.
Born in 1784, he was blinded in one eye from smallpox. Raised in a musical family, Ries' father was a pianist and violinist, younger brother a notable violinist of his days (who studied with Louis Spohr), and Ries himself learned the piano, violin and cello.

Wanting to further his music studies, Ries went to Munich in 1801. Stricken with financial problems, he ended up being a copyist (a person who copies into legible music scores from composers' handwritten manuscripts). That did not last long, and with a letter of introduction he went to Vienna to see Beethoven. The kind composer, who was in his second decade in Vienna and with strong influence in the music circle, took in the young Ries as his student and later his secretary.
Ries' success came when he toured from Hamburg to Stockholm in 1809, often programme works of Beethoven in his concerts. To repay his master's kindness, he tried to organize a concert for Beethoven and to secure a commission for a symphony from the London Philharmonic Society; none of that, however, came to fruition.
His later successes took him to London (1824), Frankfurt (1826) and Aachen (1834). He died in Frankfurt in 1838, leaving behind 8 symphonies, 9 piano concerti, an impressive collection of chamber music, 2 oratorios, and various piano works. Most if not all of his music are now in print and being recorded.
Much has been said about Ries' music being an imitation of Beethoven, but in fact there is a noticeable uniqueness in his music, most apparent in his oratorios and chamber works. His music tends to score for a less heavy-laden ensemble, a lightness which betrays his character and temperament. His piano music is essentially classical in style, largely untouched by the romantic movement sprouting around him in the early decades of 19th century. The influence of middle-period Beethoven is certainly felt.
Recordings of Ries' music can be found in labels such as CPO and Naxos. Ries' nephew, Franz Ries, founded the publishing house Ries & Erler, which exists till this day. Still run by the family, they passionately promote the music of Ferdinand Ries. Ries also wrote a memoir of Beethoven, which is one of the most popular books on Beethoven since it first appeared in 1837.
Recommended recordings of Ferdinand Ries:
Oratorio Der Sieg des Glaubens
Clarinet Trio
Biography written by pianist Ernest so.
Photo credit: madaboutbeethoven.com