Joseph Boulogne, Chevalier de Saint-Georges (1745-1799) was not only a virtuoso violinist, a classical composer, a conductor of the leading orchestra in Paris but also was a champion fencer. When we listen to his music, we can hear exactly how linked with French society he was.
His Opus 9 Symphonies concertantes were issued in Paris in 1777 and were probably composed for performance by the Concert des Amateurs, an orchestra established by his composition teacher, Joseph Gossec. Saint-Georges started playing with the Concert in 1772, performing his Opus 2 violin concertos, and took over from Gossec in 1773. Under Saint-Georges' leadership, the Concert, despite its title 'des Amateurs,' became recognized as one of the finest orchestras in France.
His music has a dramatic flair and it's clear from the symphonies concertantes that he was not prepared to write simpler music for those not at his level. The solo writing is challenging and not for a true amateur.
The symphonie concertante is a hybrid form, combining both symphonic concepts but including important obbligato parts for two or more instruments. The symphonies concertantes are in two movements with a sonata-allegro first movement and a rondo second movement. The slow movement is generally dropped. The symphonie concertante was most popular during the second half of the 18th century and then was abandoned in favour of works that brought out more of the soloists' qualities, such as double and triple concertos. As the leader of the orchestra and composer of the work, Saint-Georges could present music that could show off both the ensemble and the soloists.
The Allegro, with its two violin soloists, becomes a perfect showpiece for the orchestra, its music director, and the same man as soloist. The two violins are, at time, in echo of each other, and at other times, seemingly challenge each other.
Joseph Bologne, Chevalier de St Georges: Symphonie Concertante in A Major, Op. 10, No. 2 – I. Allegro (Yury Revich and Libor Ježek, violins; Czech Chamber Philharmonic Orchestra, Pardubice; Michael Halász, cond.)


Yury Revich (b. 1991) is a Russian classical violinist residing in Vienna. He was the winner of an ECHO Klassik 2016 "Newcomer of the Year" award, "Young Artist of the Year 2015" at the International Classical Music Awards and "Young Musician of the Year" by the Beethoven Center Vienna. He's known for his work with charitable and philanthropic causes, including a benefit concert in 2011 for the East Japan Earthquake and Tsunami and UNICEF.
Libor Ježek (b. 1975) is a Czech violinist who did graduate study at the Faculty of Arts, University of Ostrava. Since 1999 he has been deputy concertmaster with the Czech Chamber Philharmonic Orchestra Pardubice, and he also teaches at the Conservatory of Pardubice. He is the leader and co-founder of the Corvus Quartet, established in 2004.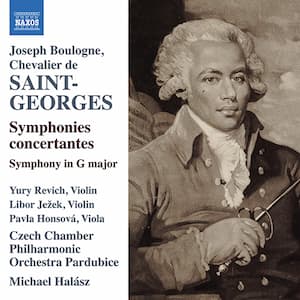 Joseph Bologne, Chevalier de St Georges: Symphonie Concertante in A Major, Op. 10, No. 2

Performed by
Yury Revich and Libor Ježek
Czech Chamber Philharmonic Orchestra, Pardubice
Michael Halász

Official Website
For more of the best in classical music, sign up to our E-Newsletter