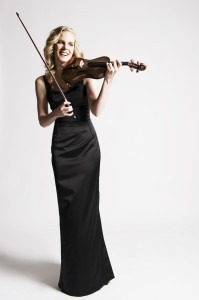 Edward Elgar
Violin Sonata in E Minor, Op.82

On the day of interview, Simone has just finished her rehearsal with the HKPO. Despite her long day, her eyes rolled with excitement whenever she talks about music. Behind her blue eyes, you can see passion, determination and energy. At the same time, Simone embraces spontaneous encounters in life with curiosity and a humble heart. Indeed, she is an artist who lives along the natural rhythm of life.


Tomorrow's your concert. How do you feel right now? Is there any particular thing you would usually do before concert?

I am just looking forward to it and I feel excited because it is my first time working with the HKPO. I have worked with Maestro von Zweden many times before, also on the Britten Concerto and I feel a great musical connection with him.

I don't really have a particular ritual except that I just have to eat before a concert- I need the energy. I know some artists prefer to eat after a concert, but for me food beforehand is a must- preferably pasta. It does not necessarily have to be pasta but I do like it very much.

Why did you choose to perform Britten's Violin Concerto?

I think this piece is one of the best-written pieces in the twentieth centuries. Also this piece is not being performed as much as it deserves – it is good to see more and more violinists are getting to play it now- but still, I am trying to get this piece played more. It has great emotional impact.

How do you feel about your collaboration with the HKPO?

Well I feel that we are blending in with each other – hopefully the orchestra feels the same. I think they are very disciplined, eager and supportive. They play very well and also are very flexible to work with. So it has been a real pleasure.

How do you perceive yourself as a violinist? What difference would you like to make in the international music scene?

I don't know if it has anything to do with making a difference. Rather, for me it is always about the music, my passion. I am really grateful that I get the opportunity to play and share my passion with many people, and that I can do so through the violin – my voice. I hope my passion comes across and that music is enjoyed by as many people possible and enriches their lives as it does mine.

Critics compare you with Heifetz. Does it give you more motivation or more stress?

Neither. I just find it's a huge compliment. To be compared with Heifetz, what more can you want? There's no extra pressure or a need to feel stress because of that. The only thing I want is to give the best of myself, always, it shouldn't really matter what goes on around me. You have to try not to be easily stressed out by the outside world. In the end, my biggest challenge can only be myself.

In your opinion, what makes a good violinist?

I think a good violinist should be a good artist. Instead of being a violinist, I hope I am a musician. It's different. It is not about playing the violin well, it is about communicating through music. I feel a violinist's sound is a reflection of their soul, it's very personal.

When I listen to somebody's performance, I look for an artist with integrity, with respect for the score and with passion.

Do you think you are a good violinist, based on your own criteria?

I do strive for that. I hope so. But you know as an artist, you are always learning and always growing. That will never end. That's no such thing as a perfect performance. There's always a higher place. I just try to be myself.

You watched someone playing the violin on TV at the age of 2 and immediately decided to become a concert violinist. What was in the performance that had sparked off your aspiration?

I don't remember. Apparently, I saw someone play in a children's programme. I was too young to remember now. Somehow it just grabbed me. I guess if you really have a passion about something, this will come out at some point in a person's life. For me, I was convinced from that moment that being a violinist is what I wanted to do in life. All these years the violin has always been my main focus.

That was quite an inexplicable feeling for me at the age of two because I was not born into a musical family. Neither of my parents are professional musicians – well they are music lovers. My father used to play the organ as a hobby.

How does your family support you?

If it weren't my family, I wouldn't be here. They are the best supporters I could ever have. They have supported me all the way- and in the best possible way, and this has been crucial for me. In Holland, it was very difficult to combine music training and academic study. Often I had to travel a lot for my music lessons. I remember I had piano lessons, theory lessons and also played in an orchestra apart from studying the violin. It was very difficult to balance everything. So aged 11 my family and I decided it was best for me to move to London for a more focused musical education. It was big decision indeed with all the support from my family.

Looking back at this point of your life, what have you given up for your current achievements?

I don't really feel like having given up anything in my life. To be a soloist, of course it takes a lot of hard work- and it's a long road. Yes it takes some sacrifices as well. But I don't feel like I have sacrificed a lot, it's fine with me. I can't really think of anything I'd call a sacrifice. Perhaps I don't have as much time for social life, but still I try to make time for that. I believe you can always make time for things that are important to you.

Perhaps there was one thing that my family has sacrificed for me- the financial burden of letting me study in a boarding school for a better music education. It was very expensive to study in London back then.

Who are your favourite violinists? And three most inspiring people in your life?

I like the older generation. Heifetz, Oistrakh and Szeryng. I used to listen to them a lot when I was younger.

My parents and my sister, that's three! They are absolutely on top of my list. Many things inspire me in my life; it does not necessarily have to be people. It can be nature. And everything I see, everyone I encounter and all my experiences somehow inspire me.


Can you name one important person that offered you tremendous help in your musical career?

I would say Maestro Jaap van Zweden. We started working together several years ago. He's been very good to me and has invited me to play many concerts with him with various orchestras.

How do you decide whether to collaborate with a certain musician or orchestra?

I am always happy to work with good conductors, orchestras and musicians. But very often you have to actually play with them to know whether you will connect with them or not. Sometimes it works, other times it doesn't. When you work with a musician, both have to share the same sense of musicality and aesthetics. At least you have to be able to feel a musical piece together. By that I don't mean it is a must to feel or interpret the piece in the same way- but I think that helps.

Sometimes your ideas just differ. It can be something as simple as tempo. It can also be big stylistic divergences. You can feel that when you are playing. But if both are willing to possibly discuss things with each other, there usually is a way to make things work. You have to adjust yourself quickly to the atmosphere.

How do you choose your repertoires? Do you focus more on classical or contemporary repertoires?

I have not played so many contemporary works- Sofia Gubaidulina's In tempest praesens is a recent contemporary performance of mine. The piece is excellent. I love it so much. The composer came to the performance and rehearsals. She was definitely an inspiring person.

I am very picky with what I play. I am always interested in looking at different scores and listening to various pieces. One principle remains: a work has to touch me emotionally. If a piece doesn't touch me emotionally, I don't play it. It must be convincing. If I am to perform it, I have to love it. Otherwise I think that's not very honest.

But in general I play repertoire from baroque to contemporary, and love to have this variety in my concert season.

Is there any repertoires you haven't done but you would love to perform? How would you choose your next piece?

I am sure there's plenty. I couldn't say how I would choose my next piece. Because I am not sure what I would come across in future. I don't know, I have to see what happens. I try to play what I really know well from my repertoire for my concerts. At the same time I am always eager to learn new pieces. I try to make a good mix.

You don't usually get to choose what you like to play in a concert. Often the piece is set. Depending on the piece, sometimes you say yes, other times you just have to say no unfortunately- that is the only way to build up your career.

Is there any piece that you like but feel you are not ready to make an attempt?

I don't think so. Even though Beethoven's works demand maturity, I don't think it means you can't study it when you are young. On the contrary, you have to study it for quite a while so that the music grows within you. Having said so, I have played Beethoven for quite many times now throughout my concert career, but only after having studied and thought about it for quite a long time before, that was important to me for that work in particular.

How do you perceive yourself as a performer in relation to composers?

It's all about the composers, always. Of course music is not heard without the performer, but in the end it's always about the music itself. It's not about the performer; it's about the music. Every artist has his own voice and interpretation, so you have to find a balance in it. When I play Brahms, I want people to hear Brahms first and then me as an artist- rather than the other way round even though I do think it is important for the artist to have his own voice. If you hear the artist first, I think somehow there is an ego in the way of the music – but music is never about that.

Have you ever thought of becoming a composer?

No, I enjoy performing more than composing. I think I am a performer rather than a composer. Having said that, I am interested in composing my own cadenzas for Mozart's concertos. I do plan to try that.

How do you want your music career to be like? Are there any particular goals you would like to achieve throughout your career?

Actually I feel like I am on my way now. I feel very grateful that I can keep performing with great orchestras and conductors. I just hope I can continue playing.

Really, I am not a person like that. I don't think too far ahead. Of course you have to plan your diary a few years ahead. Other than that, I just see what comes my way and react to it. There's only so much you can plan yourself in the music world. You can only plan ahead to a certain extent, because most of the time it's what comes from outside.

Any future plans of recording new albums?

No plans at the moment. But who knows?