Unlike earlier days, it was harder for modern operas to truly qualify as a Hit! However, Richard Strauss' 1911 opera Der Rosenkavalier was not only a success, but a triumph, with impressive ticket sales from the night of its premiere. Within two months, the opera had gone global: first to Italy, then Austria, to the Royal Opera House in London by 1913, and the Metropolitan Opera in New York that same year.
After WWII, Strauss permitted a suite to be made of the music. It is thought that Artur Rodziński was behind the arrangement because he conducted the Suite's first performance by the New York Philharmonic. The work had its debut in the opening concert of the 1944-45 season and the critic Olin Downes in New York Times thought it was "vivid, sensuous, properly theatrical," but too long.
Downes' comments lay out exactly why this work appeals – it takes the best of the best, starting with the Marschallin's opening scene with her young lover, Octavian. The night of passion (listen to those horns!) changes to a tender melody as Octavian reappears as the Rosenkavalier, the Knight of the Rose. As the Rosenkavalier, Octavian is to deliver oafish Baron Och's engagement rose to the ingenue, Sophie. Octavian falls in love with Sophie and they conspire to rid her of the Baron's attentions. The most touching scene of the opera closes it: the Marschallin enters and relinquishes Octavian to Sophie. Young love wins. The Suite closes with the well-known Rosenkavalier Waltz – symbolic not only of the love of Octavian and Sophie but also of the twilight of the Marschallin's love.
Strauss: Der Rosenkavalier Suite, Op. 59, TrV 227 (Stuttgart Radio Symphony Orchestra; Neville Marriner, cond.)


Strauss' luscious music in the hands of Sir Neville Marriner (1924-2016) was recorded in 2017 with the Stuttgart Radio Symphony Orchestra.
Marriner was one of the most recorded conductors, making over 600 recordings over his career. He started his career as a violinist, with a position in the London Symphony Orchestra. He went on to teach at the Royal College of Music and founded the Academy of St Martin in the Fields and the Los Angeles Chamber Orchestra. Both chamber orchestras brought new music to the standard orchestral repertoire through his investigation into and promotion of early-modern music. Marriner, encouraged by Pierre Monteux, started his conducting career in the early 1950s.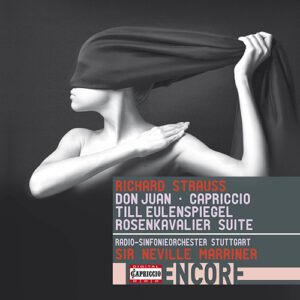 Strauss: Der Rosenkavalier Suite, Op. 59, TrV 227

Performed by
Stuttgart Radio Symphony Orchestra
Neville Marriner

Official Website