Polish composer Fryderyk Franciszek Chopin (1810-1849), better known under the French version of his name, Frédéric Chopin left Poland at age 20, just as the November 1830 Uprising was about to start, and started a new life in Paris. Although he had been a child prodigy, once he was in Paris, he gave few public concerts, preferring to appear in the more private salons.
As a composer, he wrote almost exclusively for the piano, his instrument. His major piano works were nationalist works such as mazurkas and polonaises, other keyboard genres included waltzes, nocturnes, the instrumental ballade, impromptus, scherzos, preludes, sonatas, and études.
Between 1825 and his death, Chopin wrote nearly 60 mazurkas. The mazurka was a traditional Polish dance, usually in triple meter, with one of its characteristics being accents irregularly placed on the second or third beat. The mazurka and the other national dance, the Czech polka, were mainstays of the 19th-century ballroom.
Chopin's mazurkas were not the traditional Polish mazurka, but much more refined, including compositional techniques such as counterpoint and fugue. He also made them more interesting harmonically and added more chromaticism. He didn't want them used for dancing, but he didn't have much control over that.
Writing works such as mazurkas and polonaises served Chopin's desire to be Polish even while living outside the country. His fame was such that his career was in Paris, but his heart always remained in Warsaw.
Mazurka No. 1 in F sharp minor was his simple introduction to a genre that would occupy him his whole life. As he developed the genre, it diverged more and more from its basic models to become a genre in and of itself.
Frédéric Chopin: Mazurka No. 1 in F sharp minor
Polish pianist Ryszard Bakst (1926-1999) was first taught by his mother before moving onto instruction at the Moscow Conservatory. He was a prize winner at the Fourth Chopin International Piano Competition in 1949 and toured both Europe and the United States, as well as the Far East. He was beloved as a teacher in the UK, where he lived from 1968 to his death.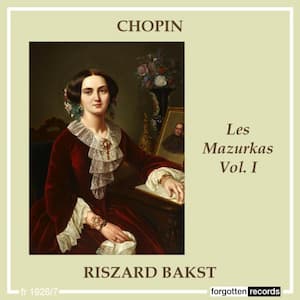 Performed by

Ryszard Bakst

Recorded in 1958

Official Website
For more of the best in classical music, sign up to our E-Newsletter