Mischa Maisky, cello
Pavel Gililov, piano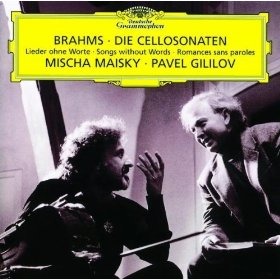 Brahms: Sonata for Cello and Piano No.1 in E minor, Op.38 – 1. Allegro non troppo
From Brahms . Die Cellosonaten (1998)

Released by Deutsche Grammophon






Brahms: Sonata for Cello and Piano


The first time I heard Maisky was few years ago during the Hong Kong Arts Festival.
That was an unforgettable performance, both visually and aurally, he was alone on stage, dressed in an electric blue Issey Miyake plisse ensemble, playing Bach's Cello Suites. The colour was aggressive, and the Suites were far too romanesque.
But I must confess that in contrast, the recording of Brahms Cello Sonate No.1 is mesmerizing.
Right from the beginning, my heart sank into the notes, and it was led on a special voyage, a voyage of dreams, sweetness, hope and beauty. And his rendition of the Lieders without words is just wonderful, so touching and tender.