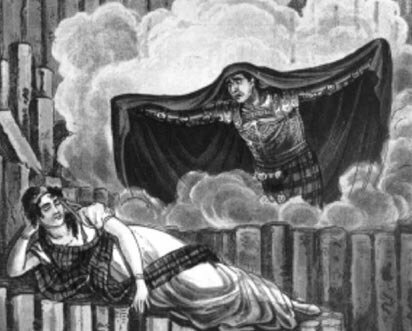 Many decades before Bram Stoker severely frightened Victorian society with his Gothic horror novel Dracula, the English writer and physician John William Polidori published his short story The Vampyre in 1819. According to literary critics, Polidori wrote "the first story successfully fusing the disparate elements of vampirism into a coherent literary genre."

Heinrich Marschner: Der Vampyr
As the story goes, Aubrey, a young Englishman meets the mysterious Lord Ruthven and accompanies him on a trip to Rome. When Ruthven seduces the daughter of a mutual acquaintance, Aubrey disgustedly departs for Greece where he meets the beautiful Ianthe. Ianthe tells him all the old vampire legends and is shortly thereafter killed by a vampire. Aubrey, unsuspecting, rejoins Ruthven and when bandits attack the pair, the mysterious Lord is mortally wounded. Aubrey swears an oath to keep Ruthven's death a secret for an entire year. Upon his return to London, Aubrey is thoroughly amazed when Ruthven appears at a high society gathering alive and well. Ruthven reminds Aubrey of his oath, and begins to seduce his sister. Unable to protect her, Aubrey has a mental breakdown yet on the day when the oath ends, he manages to write a letter to his sister revealing Ruthven's true identity. But it is all too late. Ruthven marries Aubrey's sister, who is discovered dead and drained of her blood. The mysterious Count Ruthven, in the meantime, has simply vanished.
This story had an immediate and powerful impact on contemporary sensibilities and was quickly reissued in numerous editions and translations. Chiefly influential among them was the German play Der Vampir oder die Totenbraut (The Vampire or the Bride of death), published by Heinrich Ludwig Ritter in 1821. It inspired two German composers, Heinrich Marschner and Peter Josef von Lindpaintner to issue operatic adaptations in 1828. Wilhelm August Wohlbrück fashioned the libretto — expanding the number of characters and adding a happy ending — and Marschner's work was first performed to great acclaim on 29 March 1828 in Leipzig.
Lindpainter's setting quickly followed with a premiere in Stuttgart on 21 September 1828. Both works extensively drew on the musical and dramatic characteristics of German Romantic opera established by Carl Maria von Weber. His Freischütz (The Marksman) is a sordid tale of trading one's soul for unlimited human knowledge, and it premiered in 1821. Against a background of mysterious nature and supernatural beings, humans act as representatives of superhuman forces, and eventually triumph in a vaguely religious concept of deliverance.
Whether defeating the devil or some old vampire, all three works artistically mirrored the fervent rise of German Nationalism. And that sentiment is mirrored in the musical language as well. Simply, folk-like melodies are colored by an increasingly sophisticated and chromatic language in the orchestra. This emphasis on orchestral color, achieved through the deliberate prominence of the inner voices of the musical texture not only highlighted an innovative and pioneering handling of the orchestral forces, it greatly enhanced and accentuated the overall dramatic expression as well.
Lately, it seems that Der Vampir has mysteriously reappeared in Los Angeles, New Orleans, New York and Melbourne. Better get your holy water ready!